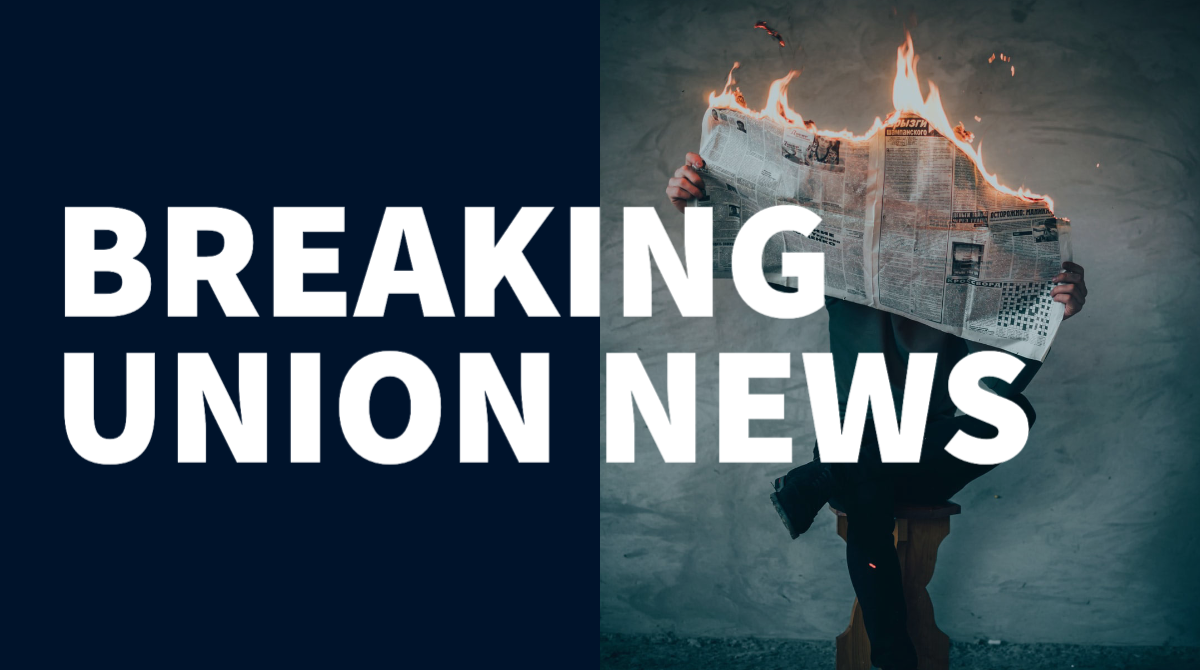 Unacceptable! After Governor Cuomo has once again put contractual increases for state employees on hold, CSEA continues our legal fight to hold NYS to the terms of our contract and to demand ALL money owed be paid to union members.
CSEA has just been notified that the contractually-required 2% wage increase that should have been paid to state workers in April, which was due to be paid in October after being twice delayed, is again on hold for another three months.
While we understand the state is trying to prevent furloughs or layoffs, and we don't want to see any state workers put out of work, the state has a legal obligation to comply with the terms of our contract and honor the commitment they made to our hard-working state employees who have helped get us through this time of crisis.
In the Spring, CSEA filed a class action grievance with the Governor's Office of Employee Relations, and we continue to pursue this grievance, demanding the contractual increases with full retroactivity. CSEA fully expects to win this grievance and will pursue the matter through arbitration and the courts if necessary, but it will take time to move through the legal process.
In the meantime, CSEA has been working with the state and our elected leaders at all levels to continue to push for federal stimulus funding to relieve the state's massive budget deficit caused by the pandemic, to hasten the state's ability to pay members what they are owed.
CSEA Supports Joe Biden for President
CSEA is proud to endorse Joe Biden for President. In a Labor Day statement, CSEA President Mary E. Sullivan said, "Joe Biden clearly aligns with the majority of issues that concern our union and impact union members, and we're going to do everything in our power to get him elected."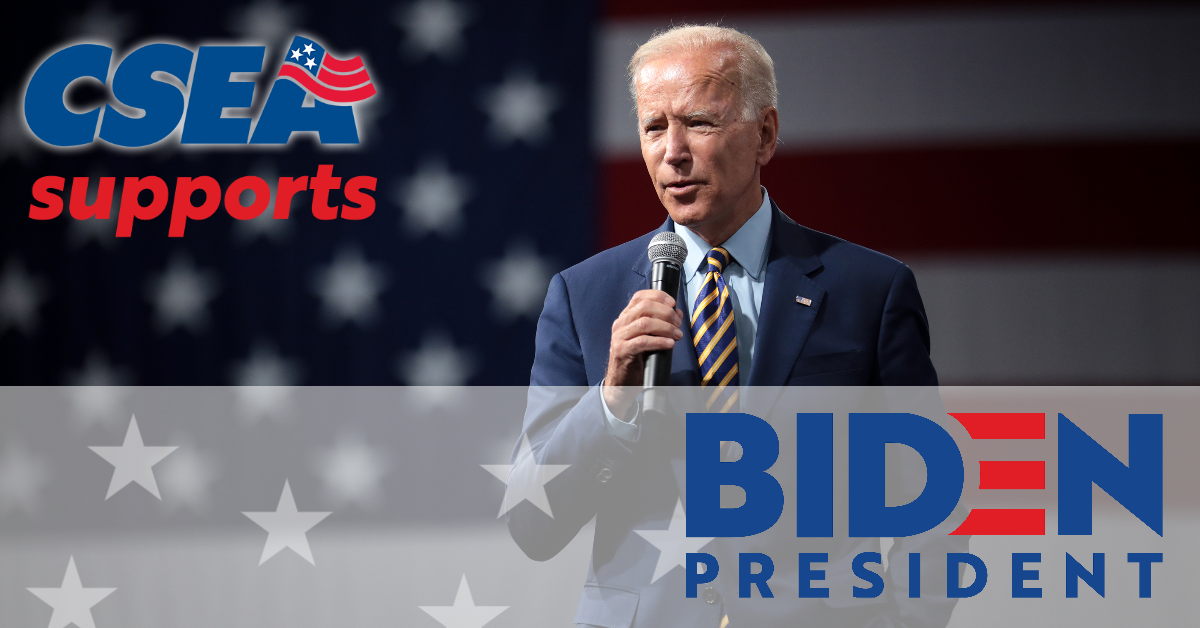 Coronavirus Information
The COVID-19 pandemic has impacted all workers throughout New York, and CSEA has created an informational page to share accurate information regarding how this virus has impacted workers and the many labor relations issues that have arisen from workplace closures and safety protocols.
The staff professionals in our union's Occupational Safety & Health Department have been closely monitoring the situation and providing appropriate guidance to union members. This includes a series of available on-demand webinars, and a section of Frequently Asked Questions.
With school reopening plans being developed in school districts across the state, there is a lot of uncertainty and fear about how we reopen our schools so that they are as safe as possible for school workers, children, and the entire school community.
With that in mind, CSEA has created our Safe@School Initiative, which is designed to be a one-stop-shop of resources regarding school safety during the pandemic.
If you are a school worker, please take advantage of the information on this page to help make sure your school community is protected to the greatest extent possible.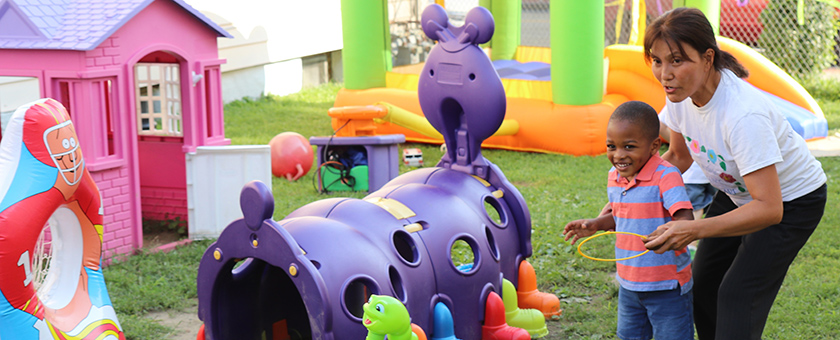 Essential workers: Are you in need of alternate childcare?
If you or any of the members who are performing essential work keeping our state running are in need of childcare, CSEA has been putting workers in touch with members who work as licensed childcare providers. To make such arrangements, call our CSEA/VOICE call center at 877-483-2732.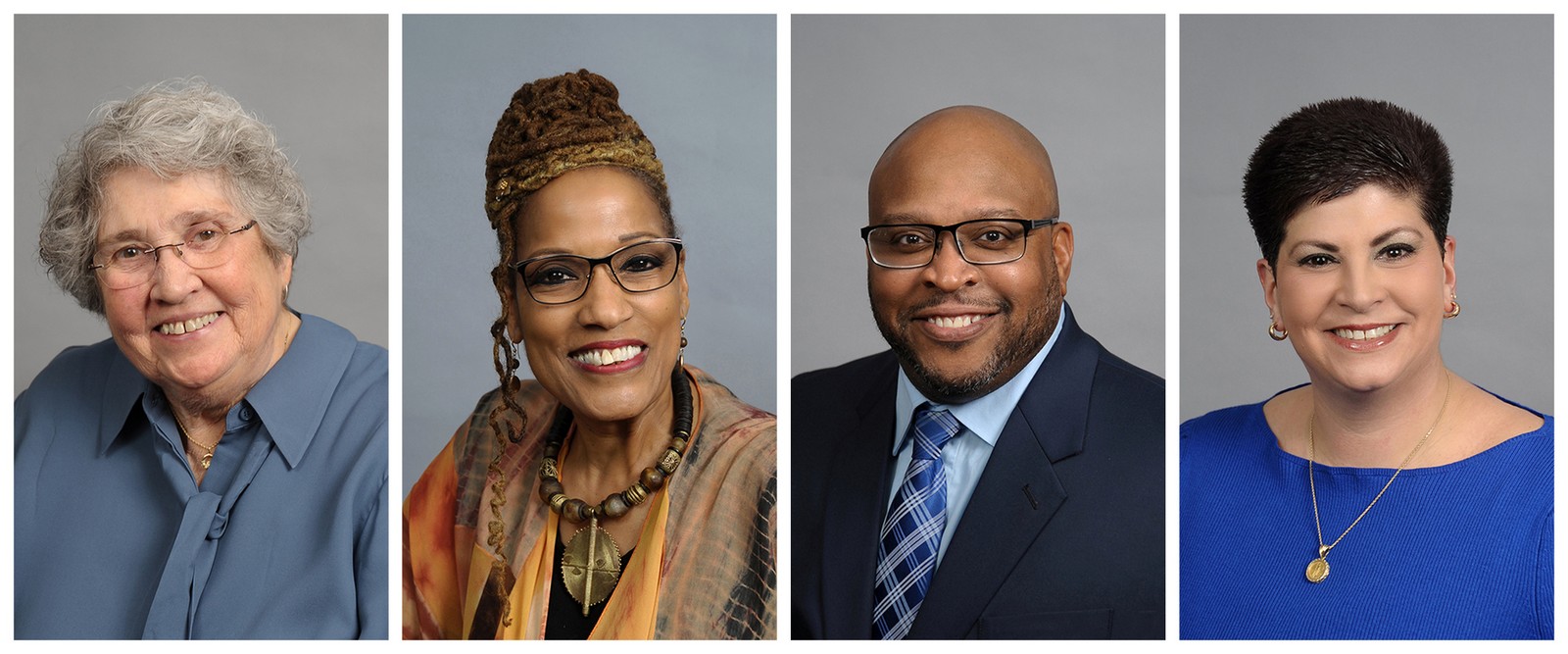 OUR UNION'S STATEWIDE LEADERSHIP TEAM: CSEA's statewide officers took office in March 2020. From left to right: President Mary E. Sullivan, Executive Vice President Denise Berkley, Secretary Richard Bebo and Treasurer Nicole Meeks.
Welcome to our redesigned web site! We hope we've made it easier to navigate and more useful for you. It's still a work in progress and we appreciate your patience as we work out any issues. Please let us know if you can't find what you're looking for or have ideas for what we could add. This is one more way we're working hard to improve communications to get information to our members and build a stronger union.
Mary E. Sullivan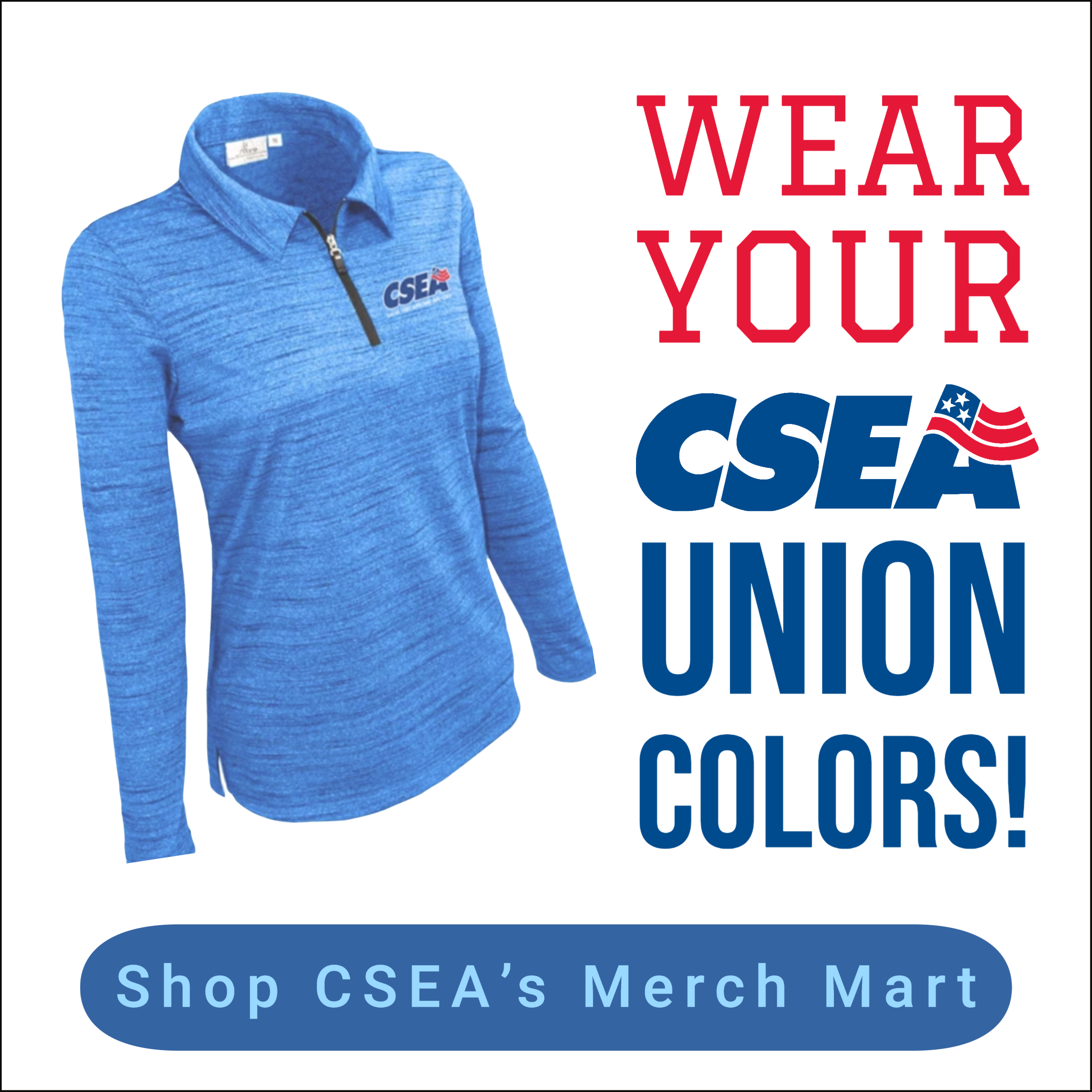 Show OFF your union pride WITH A CSEA SHIRT!
Visit CSEA's Merch Mart today to purchase shirts and hats bearing the CSEA logo which are union-made in the USA and offered through our partner Ethix Merch.
Order today and wear them with pride and show off your union colors!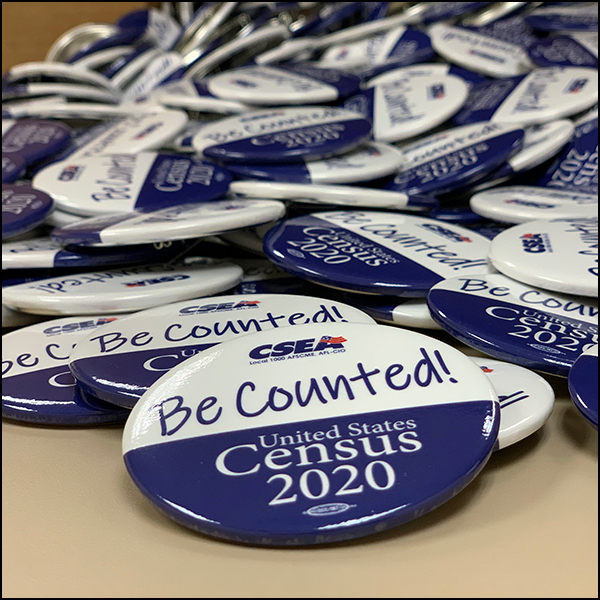 CSEA and the need for an accurate census count
It might seem like during a crisis, the Census should be the last thing on people's minds. As New York is in deep economic trouble, that's definitely not the case.
The Census is an opportunity to make sure all our governments and communities get all the funding they are entitled to. This matters to ALL our members. When people fail to get counted, we all lose.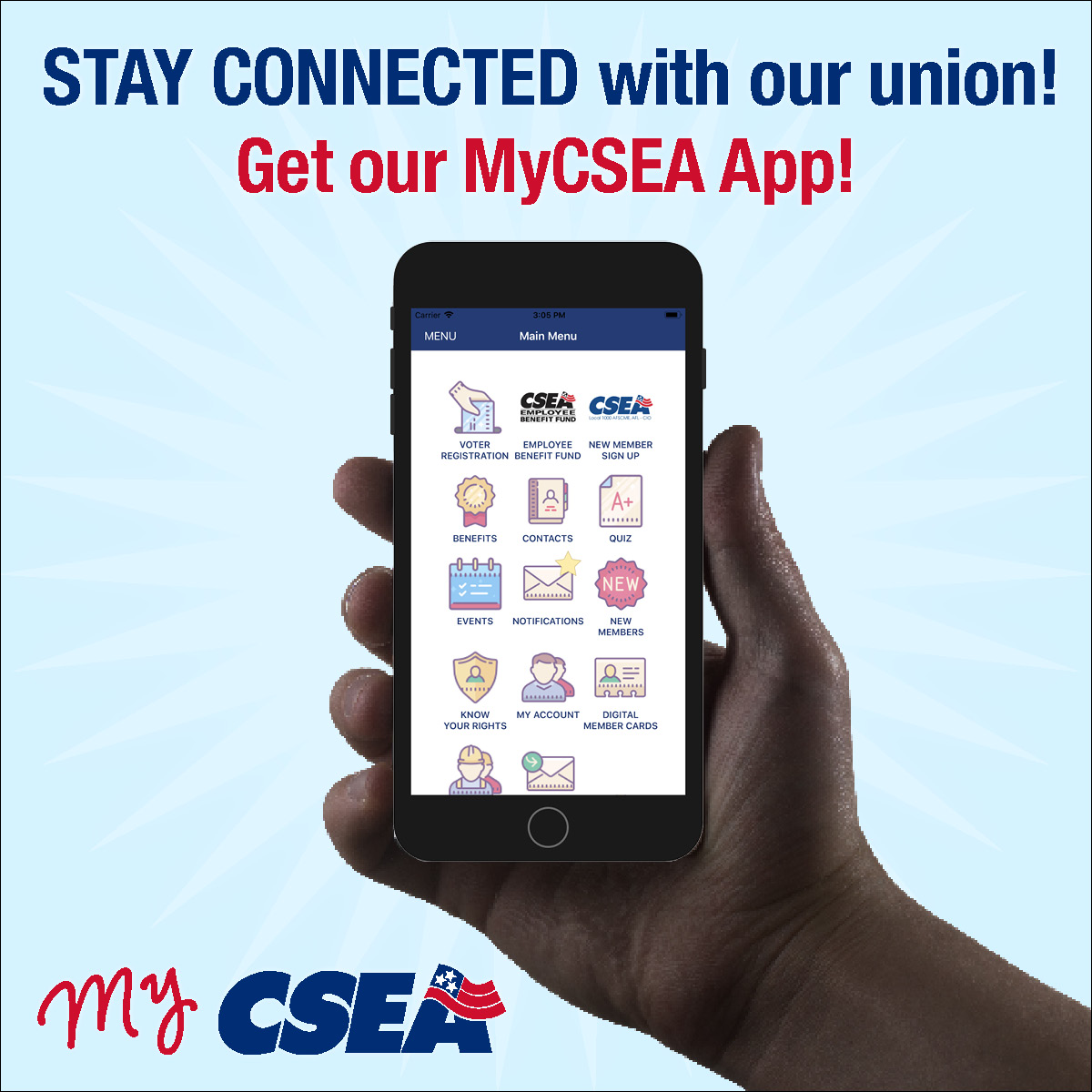 Download the My CSEA smartphone app!
The My CSEA smartphone app, available for Apple and Android devices, keeps you connected to our union and provides important information about your representation and benefits. It's all just a touch away!
Featured union news around our Regions