Page 14 - Work Force February 2016
P. 14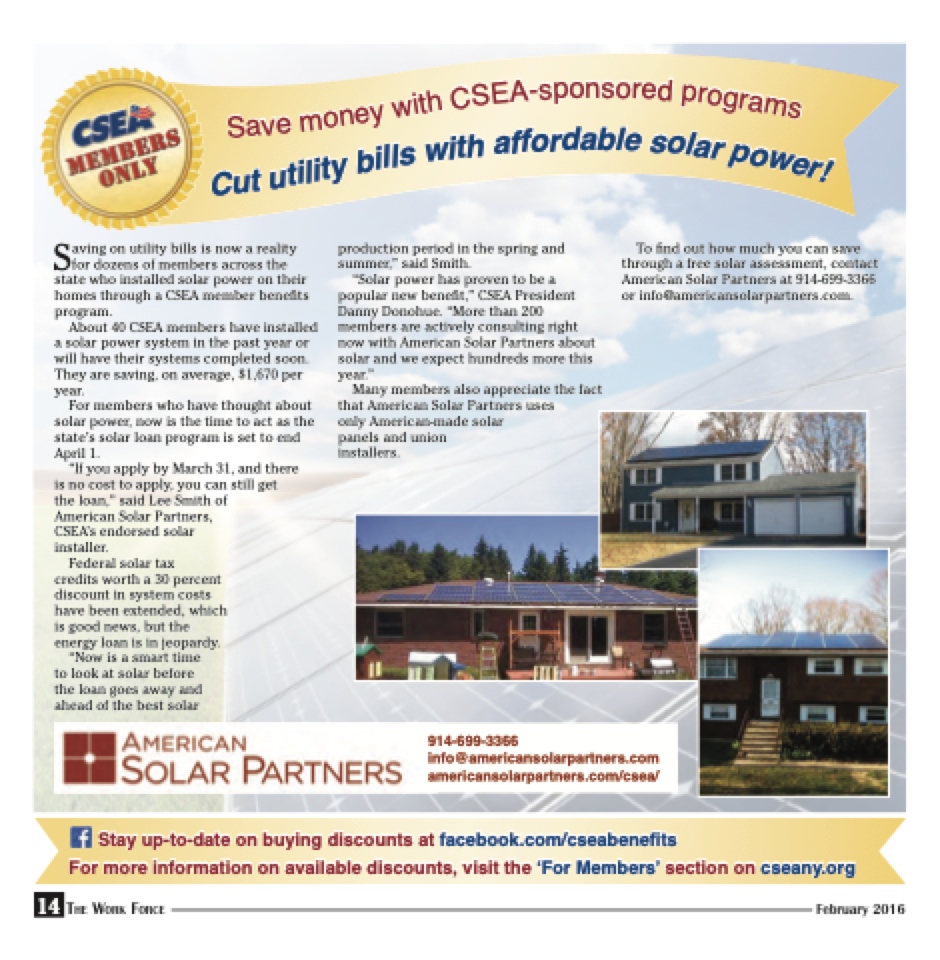 Saving on utility bills is now a reality for dozens of members across the state who installed solar power on their homes through a CSEA member benefits program.
About 40 CSEA members have installed a solar power system in the past year or will have their systems completed soon. They are saving, on average, $1,670 per year.
For members who have thought about solar power, now is the time to act as the state's solar loan program is set to end April 1.
"If you apply by March 31, and there is no cost to apply, you can still get the loan," said Lee Smith of
American Solar Partners,
CSEA's endorsed solar installer.
Federal solar tax
credits worth a 30 percent discount in system costs have been extended, which is good news, but the energy loan is in jeopardy.
"Now is a smart time to look at solar before the loan goes away and ahead of the best solar
production period in the spring and summer," said Smith.
"Solar power has proven to be a popular new benefit," CSEA President Danny Donohue. "More than 200 members are actively consulting right now with American Solar Partners about solar and we expect hundreds more this year."
Many members also appreciate the fact that American Solar Partners uses
only American-made solar
panels and union
installers.
To find out how much you can save through a free solar assessment, contact American Solar Partners at 914-699-3366 or info@americansolarpartners.com.
     914-699-3366 info@americansolarpartners.com americansolarpartners.com/csea/
 Stay up-to-date on buying discounts at facebook.com/cseabenefits
For more information on available discounts, visit the 'For Members' section on cseany.org
                             14 The Work Force
February 2016
 n
o
p
s
f
-
E
C
l
t
yh
e
n
m
S
C
A
o
e
v
h
a
S
a
u
wi
s
e
a
d
p
r
o
r
f
o
g
r
t
a
m
w
s
s
l
i
ity
l
u
i
ib
t
t
b
o
l
r
e
d
s
o
l
a
r
p
o
w
e
r
!