Page 2 - Work Force October 2021
P. 2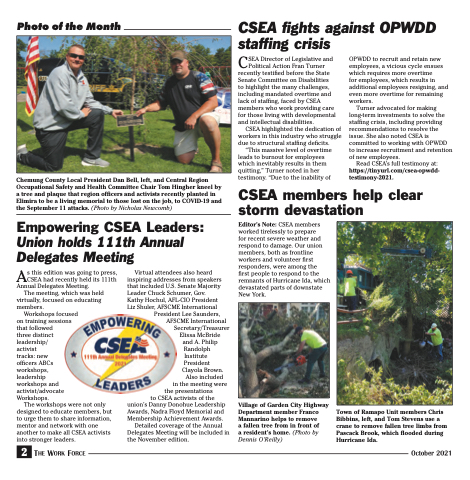 Photo of the Month
CSEA fights against OPWDD staffing crisis
  Chemung County Local President Dan Bell, left, and Central Region Occupational Safety and Health Committee Chair Tom Hingher kneel by a tree and plaque that region officers and activists recently planted in Elimira to be a living memorial to those lost on the job, to COVID-19 and the September 11 attacks. (Photo by Nicholas Newcomb)
Empowering CSEA Leaders:
Union holds 111th Annual Delegates Meeting
CSEA Director of Legislative and Political Action Fran Turner recently testified before the State Senate Committee on Disabilities to highlight the many challenges, including mandated overtime and lack of staffing, faced by CSEA members who work providing care for those living with developmental and intellectual disabilities.
CSEA highlighted the dedication of workers in this industry who struggle due to structural staffing deficits.
"This massive level of overtime leads to burnout for employees which inevitably results in them quitting," Turner noted in her testimony. "Due to the inability of
OPWDD to recruit and retain new employees, a vicious cycle ensues which requires more overtime
for employees, which results in additional employees resigning, and even more overtime for remaining workers.
Turner advocated for making long-term investments to solve the staffing crisis, including providing recommendations to resolve the issue. She also noted CSEA is committed to working with OPWDD to increase recruitment and retention of new employees.
Read CSEA's full testimony at: https://tinyurl.com/csea-opwdd- testimony-2021.
 As this edition was going to press, CSEA had recently held its 111th Annual Delegates Meeting.
The meeting, which was held virtually, focused on educating members.
Workshops focused on training sessions that followed
three distinct leadership/
activist
tracks: new officers ABCs workshops, leadership workshops and activist/advocate Workshops.
The workshops were not only designed to educate members, but to urge them to share information, mentor and network with one another to make all CSEA activists into stronger leaders.
Virtual attendees also heard inspiring addresses from speakers that included U.S. Senate Majority Leader Chuck Schumer, Gov. Kathy Hochul, AFL-CIO President Liz Shuler, AFSCME International
President Lee Saunders, AFSCME International
Secretary/Treasurer Elissa McBride
and A. Philip Randolph
Institute President
Clayola Brown. Also included
in the meeting were the presentations
to CSEA activists of the union's Danny Donohue Leadership Awards, Nadra Floyd Memorial and Membership Achievement Awards.
Detailed coverage of the Annual Delegates Meeting will be included in the November edition.
Editor's Note: CSEA members worked tirelessly to prepare
for recent severe weather and respond to damage. Our union members, both as frontline workers and volunteer first responders, were among the
first people to respond to the remnants of Hurricane Ida, which devastated parts of downstate New York.
CSEA members help clear storm devastation
   2 The Work Force
October 2021
Village of Garden City Highway Department member Franco Mannarino helps to remove
a fallen tree from in front of
a resident's home. (Photo by Dennis O'Reilly)
Town of Ramapo Unit members Chris Bibbins, left, and Tom Stevens use a crane to remove fallen tree limbs from Pascack Brook, which flooded during Hurricane Ida.