Page 6 - Work Force September 2021
P. 6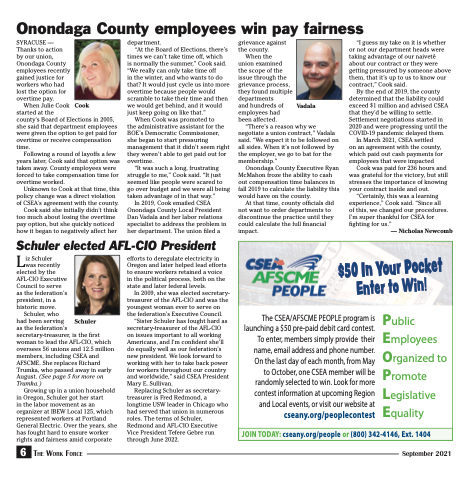 Onondaga County employees win pay fairness
SYRACUSE — Thanks to action by our union, Onondaga County employees recently gained justice for workers who had lost the option for overtime pay.
When Julie Cook
started at the
county's Board of Elections in 2005, she said that department employees were given the option to get paid for overtime or receive compensation time.
Following a round of layoffs a few years later, Cook said that option was taken away. County employees were forced to take compensation time for overtime worked.
Unknown to Cook at that time, this policy change was a direct violation of CSEA's agreement with the county.
Cook said she initially didn't think too much about losing the overtime pay option, but she quickly noticed how it began to negatively affect her
department.
"At the Board of Elections, there's
times we can't take time off, which
is normally the summer," Cook said. "We really can only take time off
in the winter, and who wants to do that? It would just cycle us into more overtime because people would scramble to take their time and then we would get behind, and it would just keep going on like that."
When Cook was promoted to
the administrative assistant for the BOE's Democratic Commissioner, she began to start pressuring management that it didn't seem right they weren't able to get paid out for overtime.
"It was such a long, frustrating struggle to me," Cook said. "It just seemed like people were scared to go over budget and we were all being taken advantage of in that way."
In 2019, Cook emailed CSEA Onondaga County Local President Dan Vadala and her labor relations specialist to address the problem in her department. The union filed a
grievance against the county.
When the
union examined the scope of the issue through the grievance process, they found multiple departments
and hundreds of employees had been affected.
"I guess my take on it is whether or not our department heads were taking advantage of our naiveté about our contract or they were getting pressured by someone above them, that it's up to us to know our contract," Cook said.
By the end of 2019, the county determined that the liability could exceed $1 million and advised CSEA that they'd be willing to settle. Settlement negotiations started in 2020 and were progressing until the COVID-19 pandemic delayed them.
In March 2021, CSEA settled
on an agreement with the county, which paid out cash payments for employees that were impacted
Cook was paid for 236 hours and was grateful for the victory, but still stresses the importance of knowing your contract inside and out.
"Certainly, this was a learning experience," Cook said. "Since all
of this, we changed our procedures. I'm super thankful for CSEA for fighting for us."
— Nicholas Newcomb
  Liz Schuler
was recently elected by the AFL-CIO Executive Council to serve as the federation's president, in a historic move.
Schuler, who
had been serving
as the federation's secretary-treasurer, is the first woman to lead the AFL-CIO, which oversees 56 unions and 12.5 million members, including CSEA and AFSCME. She replaces Richard Trumka, who passed away in early August. (See page 5 for more on Trumka.)
Growing up in a union household in Oregon, Schuler got her start
in the labor movement as an organizer at IBEW Local 125, which represented workers at Portland General Electric. Over the years, she has fought hard to ensure worker rights and fairness amid corporate
efforts to deregulate electricity in Oregon and later helped lead efforts to ensure workers retained a voice in the political process, both on the state and later federal levels.
In 2009, she was elected secretary- treasurer of the AFL-CIO and was the youngest woman ever to serve on the federation's Executive Council.
"Sister Schuler has fought hard as secretary-treasurer of the AFL-CIO on issues important to all working Americans, and I'm confident she'll do equally well as our federation's new president. We look forward to working with her to take back power for workers throughout our country and worldwide," said CSEA President Mary E. Sullivan.
Replacing Schuler as secretary- treasurer is Fred Redmond, a longtime USW leader in Chicago who had served that union in numerous roles. The terms of Schuler, Redmond and AFL-CIO Executive Vice President Tefere Gebre run through June 2022.
Cook
Vadala
Schuler elected AFL-CIO President
"There's a reason why we negotiate a union contract," Vadala said. "We expect it to be followed on all sides. When it's not followed by the employer, we go to bat for the membership."
Onondaga County Executive Ryan McMahon froze the ability to cash out compensation time balances in fall 2019 to calculate the liability this would have on the county.
At that time, county officials did not want to order departments to discontinue the practice until they could calculate the full financial impact.
  The CSEA/AFSCME PEOPLE program is launching a $50 pre-paid debit card contest. To enter, members simply provide their name, email address and phone number. On the last day of each month, from May to October, one CSEA member will be randomly selected to win. Look for more contest information at upcoming Region and Local events, or visit our website at cseany.org/peoplecontest
Public Employees Organized to Promote Legislative Equality
 JOIN TODAY: cseany.org/people or (800) 342-4146, Ext. 1404
  6 The Work Force
September 2021
Schuler
  $50 In Your Pocket Enter to Win!