Scam Alert: Do not share your personal information with outside groups
**Please inform your members that they may be targets of a scam asking them to quit our union – if they receive emails, direct mail, phone calls or home visits from unknown parties seeking their personal and work information they should not respond.
Learn more at https://cseany.org/scam-alert.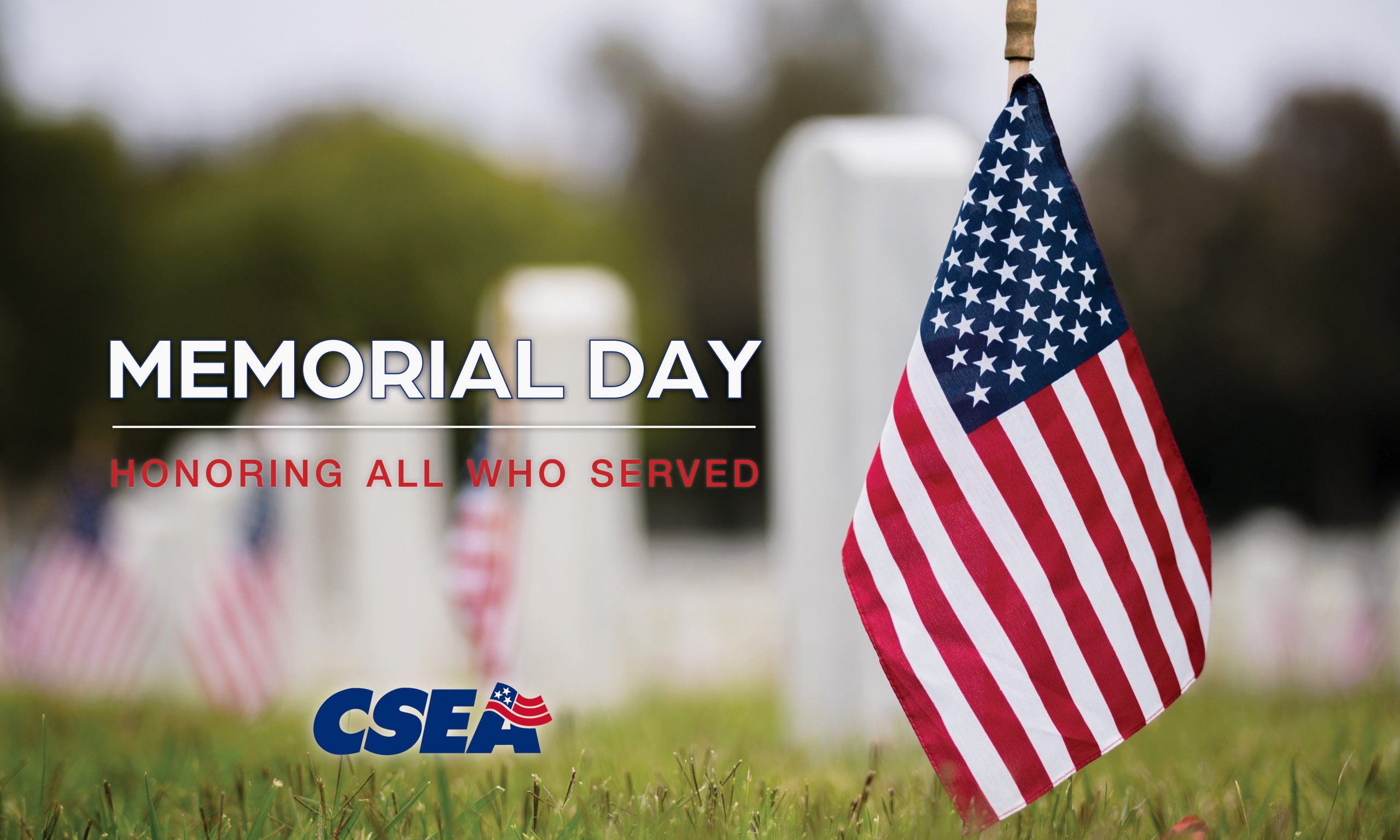 Remembering those who gave all
On Memorial Day, we pause to remember the fallen heroes who gave their lives to protect our country and its values. Their bravery and sacrifice will never be forgotten.
Apply for the Union Leadership Equity and Development (LEAD) Scholarship!
The application deadline for the 2023-24 Union LEAD (Leadership Equity and Development) Scholarship for the Union Leadership Institute (ULI) is June 1, 2023. The New York State AFL-CIO and Cornell University have for 20 years co-sponsored the ULI, which prepares union members for future labor leadership. The program is open to any union member in good standing.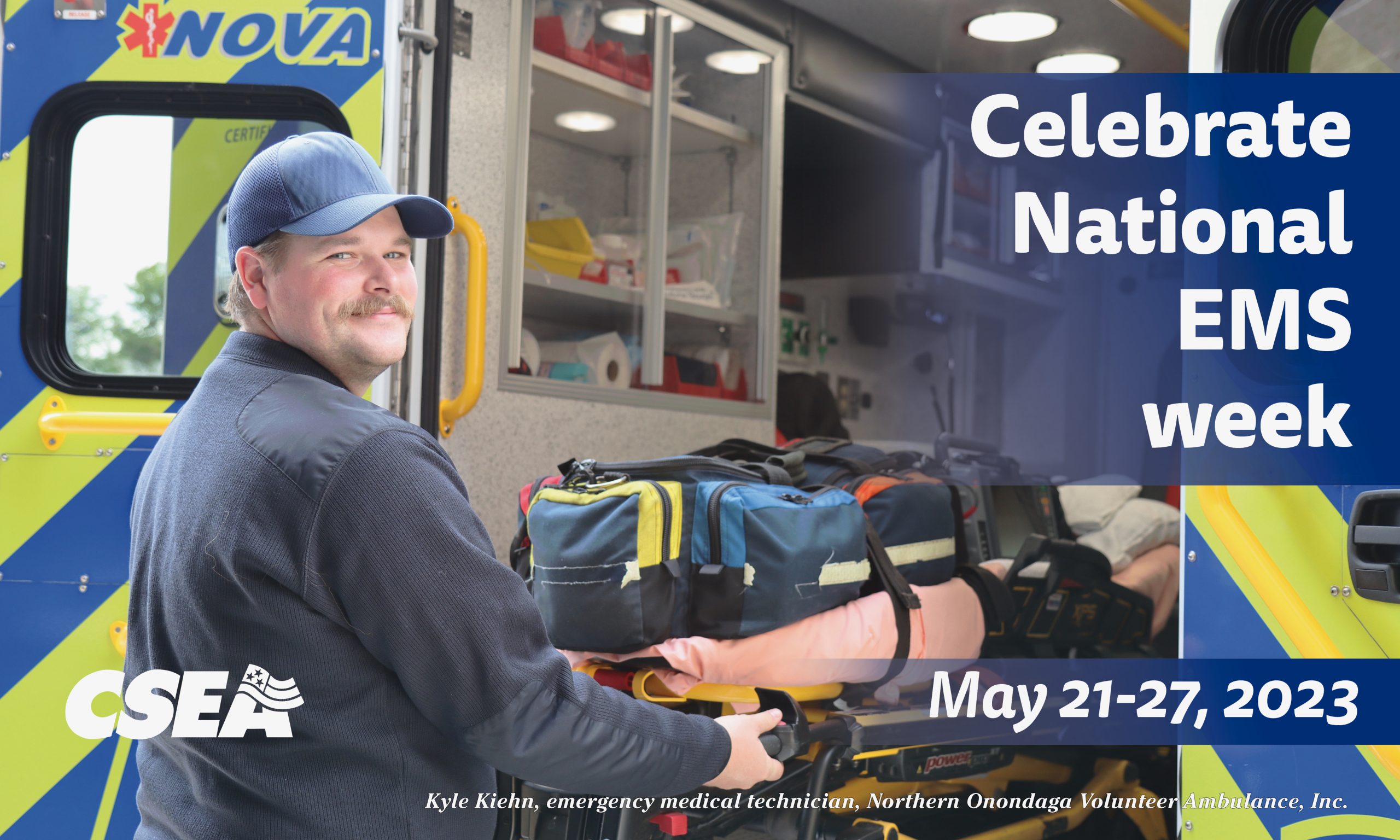 Celebrate National EMS Week
Join us in celebrating National EMS Week! This week, we honor the heroes who dedicate their lives to saving the lives of others, including many CSEA members on and off the job. Your bravery, expertise and quick thinking help keep us safe every day.
A special message from CSEA President Mary E. Sullivan
CSEA members work hard every day, and all year long. A day or even a month of appreciation doesn't quite seem like enough to adequately express my gratitude for your commitment and dedication. 
Please watch this fun and creative video – which I think highlights the variety of the work CSEA members do on behalf of all New Yorkers. Enjoy and share it with your fellow CSEA members, friends and families. 
Thank you for All You Do!
Mary E. Sullivan, CSEA President
CSEA Public Service Spotlight
First in a series of CSEA Public Service Spotlights to run throughout the state, is Dean Ellis, Vice President of our union's SUNY Albany Local. Dean takes pride in his work as part of the UAlbany campus community and excels in efforts to promote the value of our union.
Ads will be running throughout the month of May in Capital Region markets and on social media.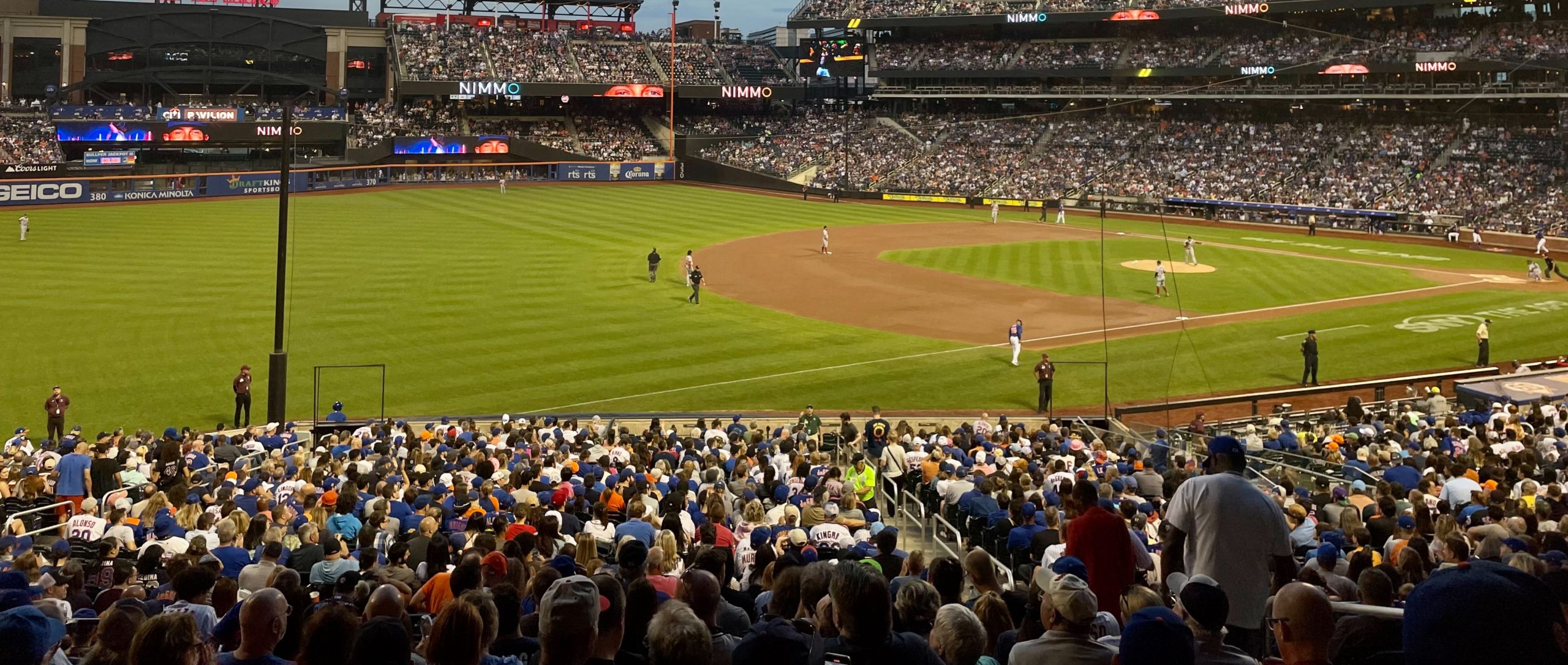 Final 2023-24 New York State Budget passed
The governor and legislators agreed this week on a final 2023-24 New York State Budget. Many of CSEA's top priorities were included in the final budget, including new policies and programs to help increase hiring in state and local governments, full funding of state agencies and additional monies to local governments,
Our Voice Our Power: CSEA holds Statewide Women's Conference
Hundreds of CSEA members from across the state participated in our union's Women's Conference, held April 28-30 in Saratoga Springs.
In accordance with the conference theme "Our Voice Our Power, attendees participated in plenary and breakout sessions centering on how union members found their voices to gain power and make positive changes. Attendees also participated in other sessions that included public speaking, building confidence, veterans' resources and CSEA member benefits.
Conference attendees also visited with CSEA vendors to gain knowledge on resources available to union members.
Western Region 3rd Vice President Sheri Ambuske was also presented with our union's prestigious Irene Carr Leadership Award, named after former CSEA Statewide Secretary Irene Carr, who had helped advance numerous work and family issues.
In photo is CSEA's Standing Women's Committee, which organized the conference. Seated in front is CSEA President Mary E. Sullivan, who is also the Women's Committee Officer Liaison. Standing, from left to right, is Standing Women's Committee Chair Faye Wilkie-Fields, Standing Women's Committee members Deborah Staulters, Tyjuana Parker, Patricia Dixon-Lawrence, Olga Pineda, Michele Kiuber, Kerry Mincher, Standing Women's Committee Staff Advisor and CSEA Director of Education and Training Nisha Stillwell-Frankson, Standing Women's Committee members Angela Lockwood and Bernadette Giambra.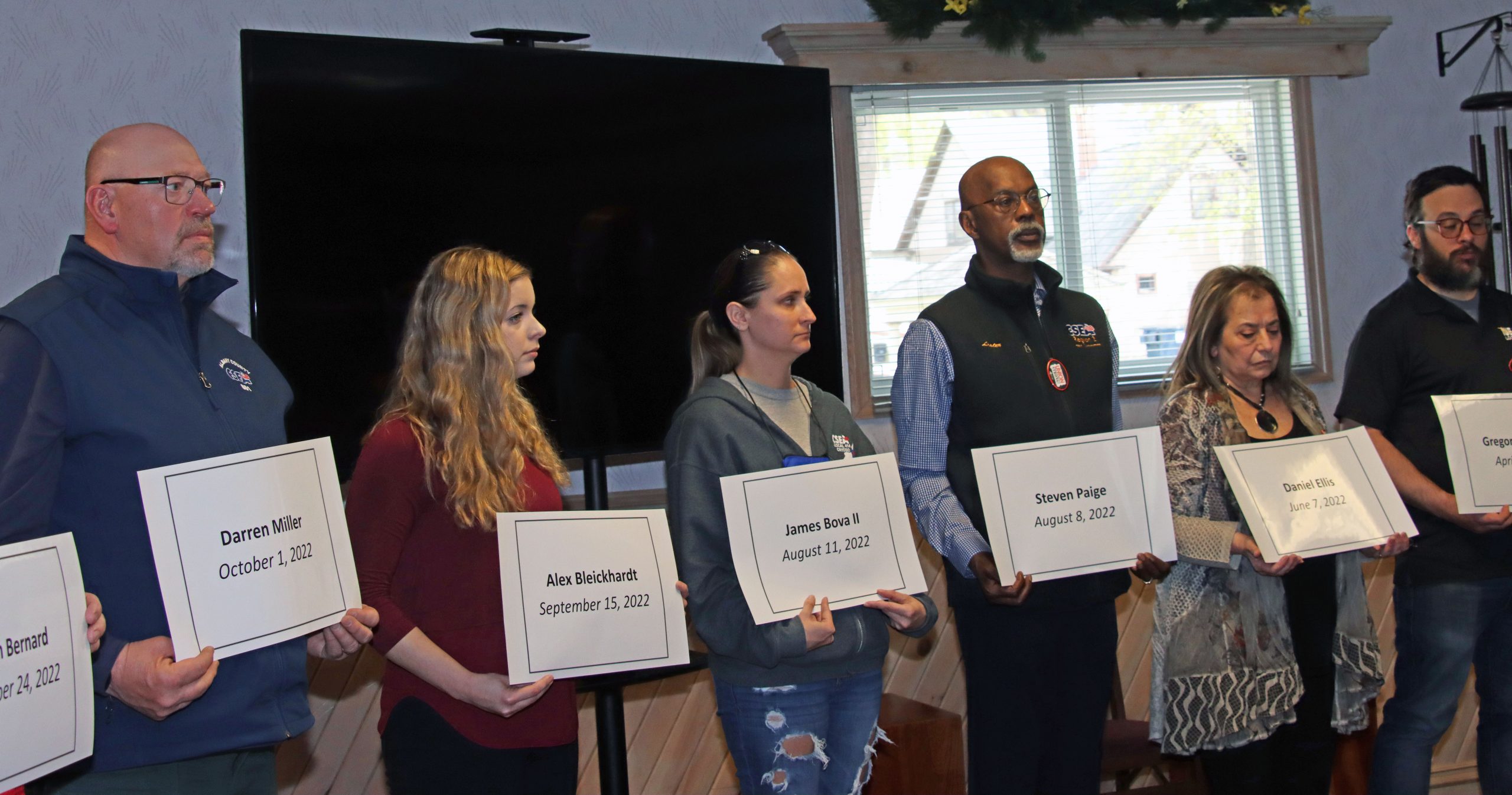 In photo, Town of Colonie Unit B President Bill Alund (far left), Central New York DDSO Local 9th Vice President Nikita Brigham (third from left) and CSEA Metropolitan Region President Lester Crockett (fourth from left) join other union members in a memorial ceremony for fallen Capital District workers at the Capital District Area Labor Federation ceremony in Saratoga Springs.
CSEA marks Workers' Memorial Day
CSEA members observed Workers' Memorial Day by participating in various events across the state.
On April 28, dozens of CSEA members from across the state attended a Capital District Area Labor Federation Workers' Memorial Day ceremony in Saratoga Springs, which was held near the site of our union's Women's Conference. Our union members also participated in other Workers' Memorial Day events across the state.
Don't Be Fooled
SUNY Cortland Local president Tom Hingher's curiosity got the best of him when he scanned a QR code from an anti-union mailer. After he did so, a YouTube video kept popping up on his phone and he had to take it in to get fixed. Don't scan any QR codes from anti-union groups and DO NOT share your information with these scammers!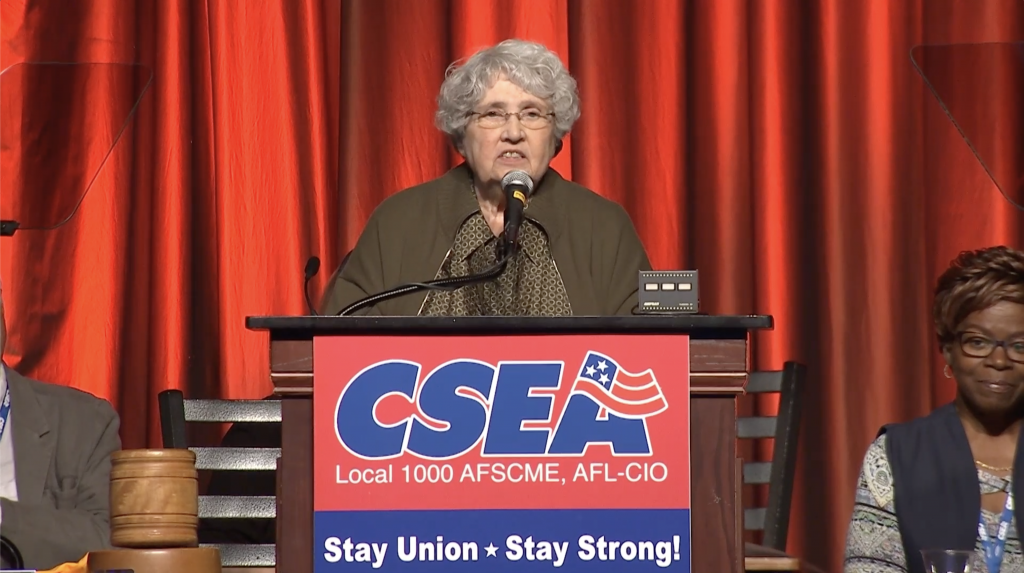 CSEA holds 112th Annual Delegates Meeting
During our union's 112th Annual Delegates Meeting, CSEA delegates and officers from across the state attended numerous workshops designed to help them build their leadership and union skills, conducted important union business, honored outstanding CSEA activists and heard remarks from Gov. Kathy Hochul, State Comptroller Tom DiNapoli, State Senate Minority Leader Robert Ortt, New York City Mayor Eric Adams, AFSCME International President Lee Saunders and AFSCME International Secretary-Treasurer Elissa McBride.
In image at right, CSEA President Mary E. Sullivan addresses the 112th Annual Delegates Meeting, as shown in this screenshot from the video recap of the meeting.
Watch video recap of the 112th Annual Delegates Meeting
See photos of the 112th Annual Delegates Meeting
Free Medical Alert System for Veterans
Medicare Advantage (Part C), a privately offered alternative to Original Medicare (Parts A and B), has grown in popularity over the years. Despite the growing popularity of Medicare Advantage, some seniors face obstacles that prevent them from truly understanding how it works and who it benefits. Latitude USA offers a special medical alert system for veterans who order theirs through the VA. To learn more about this device and other benefits, please visit our CSEA Veterans Resources page.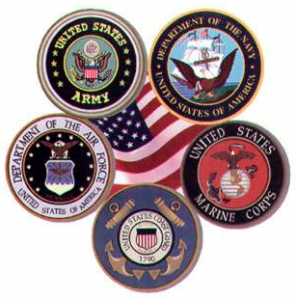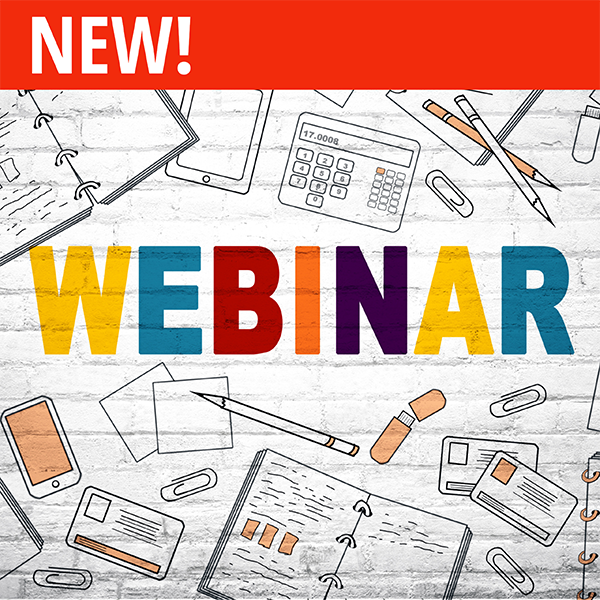 New webinar available
CSEA has a brand-new webinar available for activists interested in our governance process, How to properly write and submit proposed resolutions or amendments to CSEA's Constitution & By-Laws. It will prepare viewers to properly write proposed resolutions and/or amendments to CSEA's governing documents that, if approved, may be voted on at our Annual Delegates Meeting this October.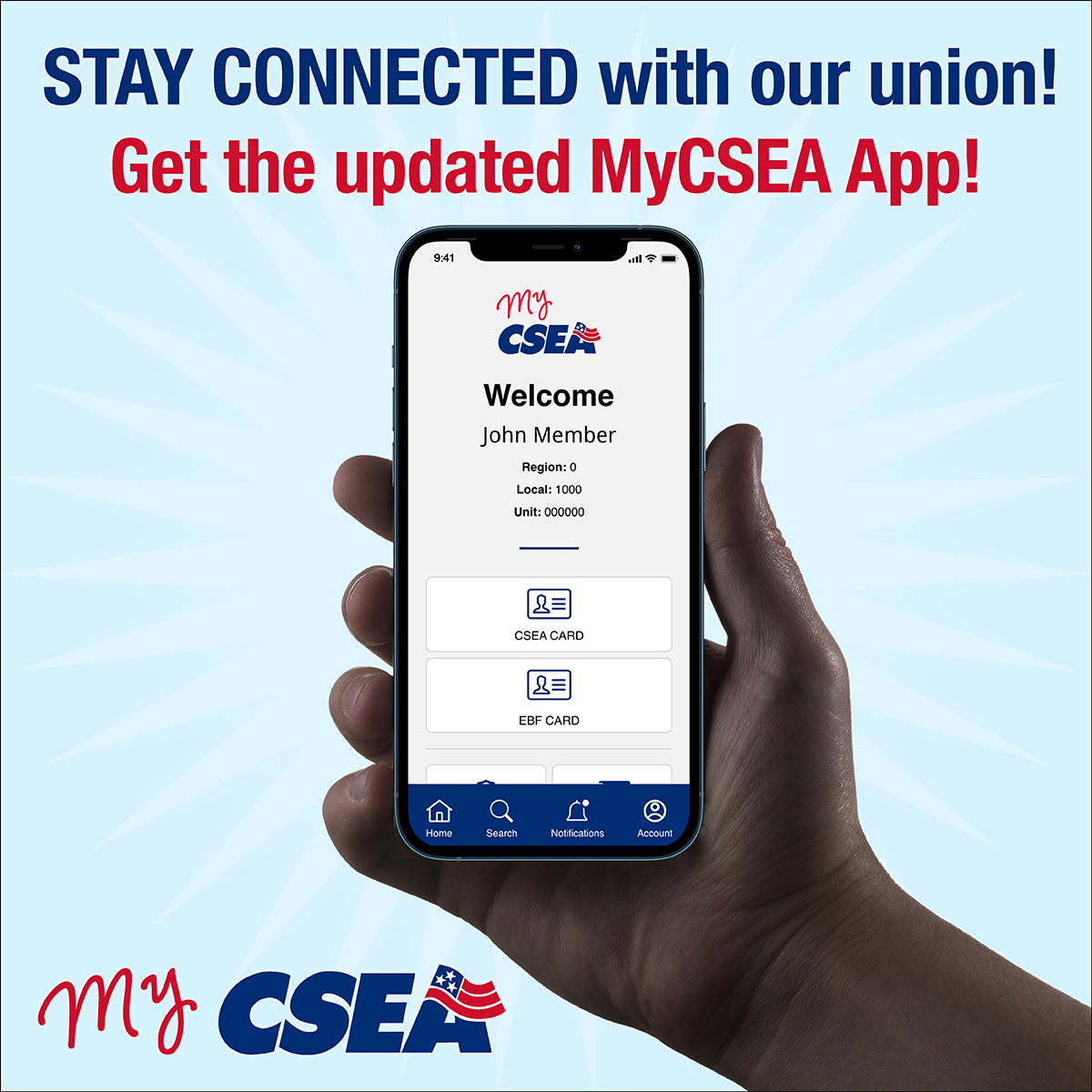 Download the Updated My CSEA smartphone app!
We've just launched a completely updated version of our popular My CSEA smartphone app, available for both Apple and Android devices, which keeps you even more connected to our union and provides important information about your representation and benefits. It's all just a touch away!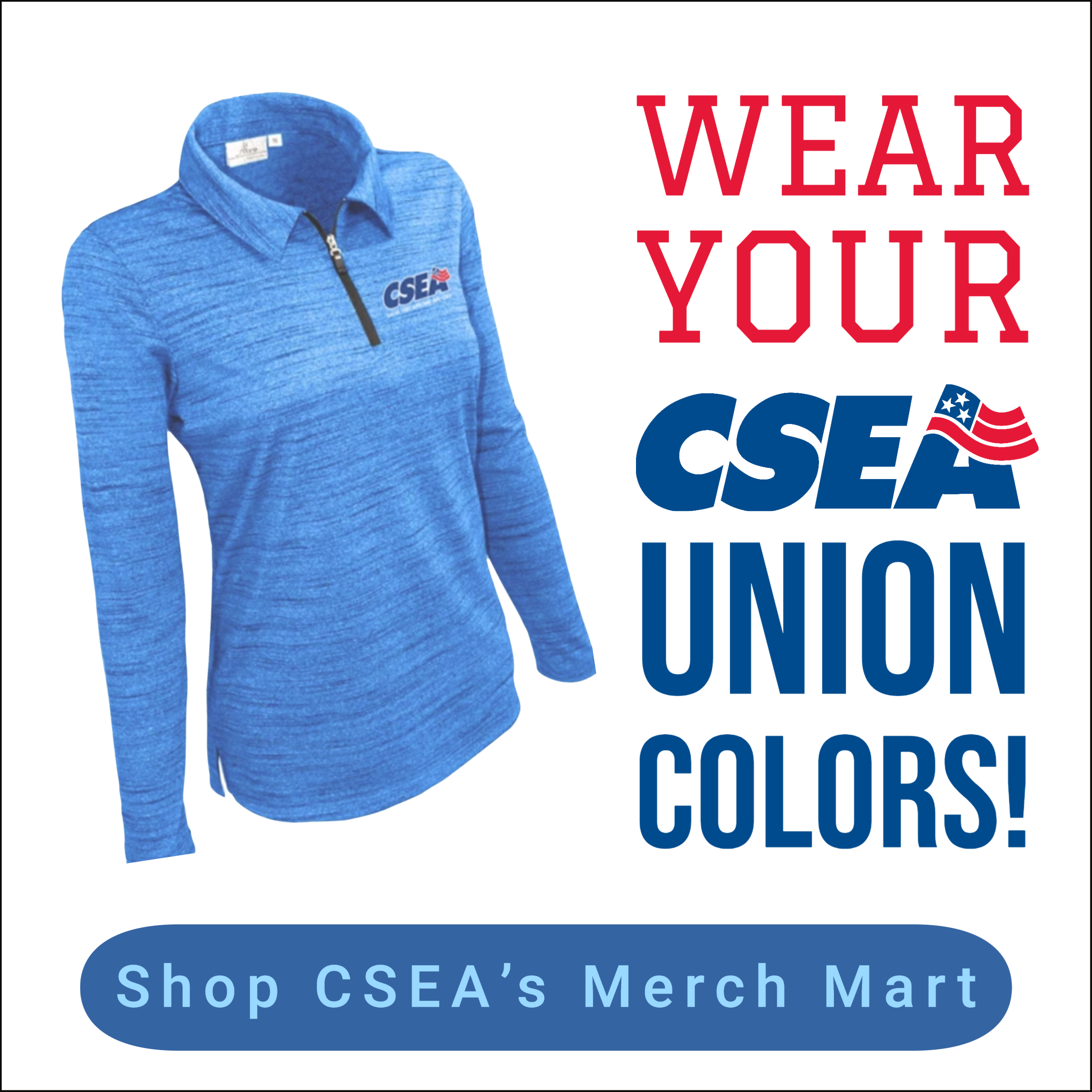 Show OFF your union pride WITH A CSEA SHIRT!
Visit CSEA's Merch Mart today to purchase shirts and hats bearing the CSEA logo which are union-made in the USA and offered through our partner Ethix Merch.
Order today and wear them with pride and show off your union colors!
Featured union news around our Regions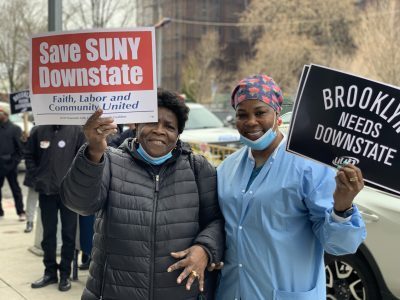 CSEA Metropolitan Region President Lester Crockett and Statewide CSEA Vice President Denise Berkley joined SUNY Downstate local President Jonathan Brown, members, activists, UUP and PEF members, clergy, elected officials and community members at a SUNY Downstate rally today to demand funding for our critical SUNY teaching hospitals.