Scholarships
Eligible dependents of our members are eligible to apply for scholarships through CSEA and AFSCME.
CSEA awards 18 $1,000 scholarships to our members' eligible dependents annually, along with two $2,500 scholarships. AFSCME awards one $5,000 scholarship annually, along with 10, $2,000 scholarships, to eligible dependents of members. Other scholarships are also available through Union Plus, CSEA regions, locals and units and many AFSCME affiliates.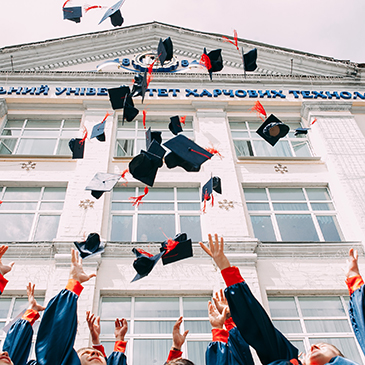 CSEA Scholarships
CSEA awards 18 $1,000 scholarships under the Irving Flaumenbaum Memorial Scholarship and Thomas H. McDonough programs. Pearl Insurance and MetLife each sponsor a one-time $2,500 award.
Applications are available in mid-February from Unit and Local Presidents, and available for download on January 31. Filing for a Flaumenbaum Scholarship automatically puts an applicant in consideration for the Pearl Insurance and MetLife Scholarships.
NOTE: DUE TO THE COVID-19 PANDEMIC, OUR APPLICATION DEADLINE HAS BEEN EXTENDED TO JUNE 1.
PLEASE NOTE: Old applications could disqualify potential candidates. Please do not use applications from previous years – applications were recently revised.

Winners of the Irving Flaumenbaum Memorial Scholarship are eligible to apply for the Thomas H. McDonough Scholarship. Applications are automatically mailed to eligible students in late August. For more information, call 1-800-342-4146, ext. 1341.
CSEA offers a special scholarship program, the J. J. Kelly Memorial Scholarship Fund, for children of members killed or totally disabled in the course of performing their public service duties, or who died while an active CSEA member. For more information on applying for this scholarship, contact CSEA at 1-800-342-4146, ext. 1341. The application deadline is October 1.
AFSCME Scholarships
Several scholarship programs are available for AFSCME members and their children. A brief description of each scholarship is below. For more information on the AFSCME scholarships, visit the
AFSCME Scholarship page
or call 1-800-588-0374.
Gerald W. McEntee Scholarship
In honor of former AFSCME President Jerry McEntee, this one-time $5,000 scholarship is awarded annually to an AFSCME member for use towards higher education.
AFSCME Affiliate Scholarship Program
Many AFSCME affiliates have special scholarship programs designed to help their members pursue educational opportunities to advance on the job.
AFSCME Family Scholarship
$2,000 renewable scholarship awarded to 10 high school seniors each year.
Jerry Wurf Memorial Fund
Provides three scholarships for the six- week Harvard Trade Union Program for full-time AFSCME staff planning a career in the trade union movement or an AFSCME member holding an elected position who is willing to take leave.
Union Plus Scholarship
Active and retired AFSCME members, spouses and dependent children are eligible to apply.
William Lucy Labor Scholarship Fund
Provides a scholarship for an experienced AFSCME leader to attend the Harvard Trade Union Program, a six-week executive program of education and training in the political, economic and organizational challenges confronting labor unions.
Note: For additional scholarship information please contact your Local or Unit President.