CSEA is fighting to defeat the proposed New York Health Act, which would change health care in New York as we know it.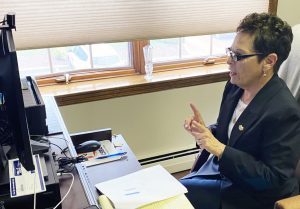 At the recent 111th Annual Delegates Meeting, CSEA Director of Legislative and Political Action Fran Turner presented details of the bill, why CSEA opposes it and how union members can take action.
"This year, we need to up our game and we need to be ready to fight," Turner said. "The proponents and supporters of this bill have upped their game. Now it's on us and our allies to stop the New York Health Act."
During the presentation, CSEA members asked numerous questions about how this bill would affect their health care, with many attendees raising strong opposition to the New York Health Act because they prefer their current health plan.
After the session, Turner, along with Legislative and Political Action staff members, continued to meet with members at virtual tables to discuss the bill.
ABOUT THE NEW YORK HEALTH ACT
The New York Health Act would create a universal, single-payer health plan in New York State, changing how health care is delivered.
WHAT WILL THE NEW YORK HEALTH ACT DO?
All New Yorkers would be on the same public health plan, with no exemptions, even if your current health plan offers stronger benefits. There would be no negotiations for health care anymore, and your current health care plan would be eliminated. While this gives health care to all New Yorkers, 95 percent of our state's residents are already covered by health insurance.
WHY CSEA OPPOSES
While CSEA supports the idea of universal health care, our union is strongly opposed to this legislation.
There are so many more questions than answers about the New York Health Act, including the legislation's true costs and how it would be paid for.
WHAT'S THE COST?
Sponsors say there will be no more premiums, co-payments or deductibles, but nothing this good is free.
The honest answer is that no one knows the exact price tag. An estimate from RAND Corp. has it costing $139 billion, but the state Division of Budget estimates it at $200 billion.
To put this into perspective, this would more than double the entire New York State Budget.
The health plan would be paid for through a new payroll tax, with employers paying 80% and workers paying 20%. Because we don't know the total cost of the program, we don't know how much this 20% would be. This contribution would also harm union members who currently contribute less than 20% to their health costs.
WHAT IF I'M OUT OF STATE?
This New York Health Act could also pose a problem for CSEA members who live out of state (working or retired) or are on vacation out of the state, because it doesn't address how you would be covered for health care outside New York.
OTHER FACTORS
The bill's supporters claim the New York Health Act would save money by implementing cost controls on doctors and other providers, but it's unclear whether CSEA members would see any savings. Specifically, the New York State Department of Health would set "reasonable" reimbursement rates and fee schedules on health care providers, but if the rates are too low, the providers could leave New York.
SHARE INFO!
DOWNLOAD AND SHARE OUR Q&A FLYER WITH YOUR CO-WORKERS
TAKE ACTION!
Over the next few months, CSEA Legislative and Political Action Department staff will be rolling out an educational campaign to inform CSEA members why our union opposes the New York Health Act. Contact your region's political action coordinator to schedule a presentation for your local or unit.
Please also visit CSEA's Legislative Action Center at cseany.org/issues to email a letter to your state legislators telling them you oppose the bill.
"When we stand together, we are strong," Turner said. "We fought back the constitutional convention. We can fight this back as well if we stand together."