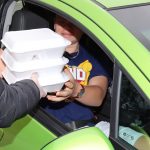 West Seneca – Ever since state and regional authorities abruptly closed schools across New York State amid the current COVID-19 pandemic, public school districts have provided thousands of breakfasts and lunches to students in their communities. It is just one of the ways schools continue to support families and embrace their ever-changing role as essential community partners.
"Everyone in our school district understands our new role in delivering educational public services," said Darryl Hertel, CSEA President for the West Seneca Central School District Educational Unit.
Centralized in 1946, the West Seneca Central School District is one of the largest central school districts in Western New York. The district is located south of Buffalo, encompassing 25 square miles, including portions of the towns of West Seneca, Cheektowaga, Orchard Park and Hamburg. The district is comprised five elementary schools, two middle schools and two high schools.
Hertel, a head custodian, was on site the morning of April 3 at the Northwood Drive Elementary School where coworkers were providing curbside pickup of meals for deserving families. He says one of the most basic needs to providing a sound education is offering nutritious meals for students and families. He also admits the delivery system has its challenges because of the viral pandemic.
"Anyone and everyone that reports to work or comes on site to any school building must be medically screened by our nurses on staff," said Hertel. "We also have personal protective equipment to make sure our staff and the public stays safe."
CSEA member Marcy Pisto, a nurse with the school district says she arrives to work at 7:00 am every morning to greet employees. "No matter the job title, I screen all district employees for symptoms of the coronavirus or any other health concern they might have," she said.
Delivering 1,300 meals a day no problem for West Seneca School District
Many families in West Seneca rely on the school district to provide two meals a day to students. Currently, school employees are delivering up to 1,300 meals a day at two different locations plus a delivery bus. Hertel says administrators and staff did a fantastic job of mobilizing efforts in such short notice so they could provide nourishing meals while schools are closed.
Hertel said, "I am so proud of my fellow employees for stepping up to the challenge to make this happen so quickly and efficiently."
School meals are available to any child in the community age 17 and under whether or not they regularly attend that school.
Based on community need, the school district also uses bus deliveries to area housing complexes where transportation to the pickup site may be an issue for some families.
"We go the extra mile to deliver food to remote areas to make sure all of our children who need to be fed are cared for," says Hertel. He added, "We did not want transportation to be a barrier."
Renee Nicoloff, a cafeteria worker at the Northwood Drive Elementary School said, "Yes, we too are essential workers who are supporting the health and well-being of others– and our members are doing it with a smile and a good heart. It's wonderful to see."
Despite the threat of the virus, Hertel says, our members are determined to continue serving their community. "As public service workers and members of this union, it's just who we are," he said.
-Ove Overmyer