Rochester — The Seneca Park Zoo, which closed mid-March due to the coronavirus pandemic, re-opened to the public on June 28.
Monroe County Executive Adam Bello said the reopening was done in accordance with guidelines provided by Gov. Andrew Cuomo. It was also a big relief for most of the CSEA members who work at the zoo to be back on the job.
"The Seneca Park Zoo is one of the best attractions around, and our members work tirelessly at making sure the visitor experience is top notch," said CSEA Monroe County President Jim D'Amico.
Kristen Miles-Pavia, the zoo's Aquatic Life Support Supervisor says there were several new safety policies that were put in place to keep the virus at bay.
She said, "Some of the hands-on interactive exhibits are suspended and the zoo also placed animal footprints on the pathways so visitors can traverse the grounds in one direction. Our zoo staff has also been working in overdrive to keep the zoo as clean as possible, especially the high traffic areas."
To limit overcrowding, timed-entry tickets are required for admission, and visitors will need to make timed reservations. Visitors will follow a one-way route through the zoo to help maintain physical distancing, and some buildings will remain closed. The zoo is following cleaning and sanitation measures recommended by the CDC.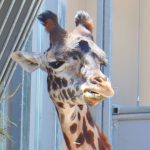 Visitors over the age of two are required to wear face coverings, as well as all CSEA staff and volunteers. Zoo officials say animals like lions, snow leopards, otters, red pandas and even giraffes have proven to be susceptible to COVID-19, so face coverings are an important part of keeping the animals, and the zoo employees safe.
Miles-Pavia says it's important for everyone to know the zoo is also a learning organization with many growth opportunities for CSEA staff and volunteers. Without hesitating, she quickly admits, "There is a real sense of comradery here where CSEA members are involved in collective decision-making. This helps us maintain a work environment where everyone takes ownership and feels proud of what happens here on a daily basis."
Zoologist Mary Ellen Ostrander, a 35-year veteran at the Seneca Park Zoo, says she couldn't imagine doing anything else professionally. "Working as a zoologist is very rewarding. The zoo has a terrific support system with the greater Rochester community and with our county government. The animals are our family and we work very hard to give them a wonderful life. It's a blessing to do this work."
Profile photo: Aquatic Life Support Supervisor Kristen Miles-Pavia is one of many extraodinary zoo professionals enhancing the quality of life for the Rochester metropolitan community. (All photos Ove Overmyer, CSEA ©2020)
-Ove Overmyer