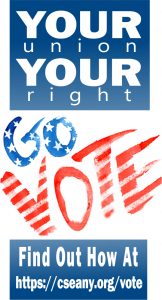 Below is information for CSEA members to help guide you during the COVID-19 Pandemic on the best and safest way to exercise your right to VOTE on November 3-Election Day. CSEA encourages all members to participate in the democratic process and vote.
Are You Registered to Vote? Or Need To Update Your Address?
If you are not currently registered vote or know a family member, friend, neighbor or colleague who is not, urge them to register today! The deadline is October 9. Voter registration cards and information can be found at www.elections.ny.gov or CSEA's website, https://cseany.org/vote.
Absentee Ballot Application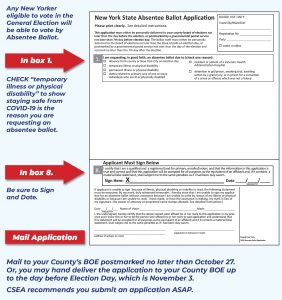 New York State has allowed the use of Absentee Ballots for November's Election as a safe way to vote due to the risk of COVID.
Any eligible voter can request an absentee ballot TODAY! Visit https://absenteeballot.elections.ny.gov/ to request an absentee ballot.
After receiving your absentee ballot, be sure to fill it out and return postmarked no later than Election Day, November 3. You may also hand deliver your ballot to your county board of elections or to your early voting location.
Early Voting
Early Voting period for this election will be October 24 – November 1.
For information on where and when to early vote, find your county board of elections through this website https://cseany.org/boe-links
Vote In Person
Election Day is November 3. Polls are open from 6 a.m. to 9 p.m. statewide that day at your usual polling place. Don't know where to vote? Visit https://voterlookup.elections.ny.gov/