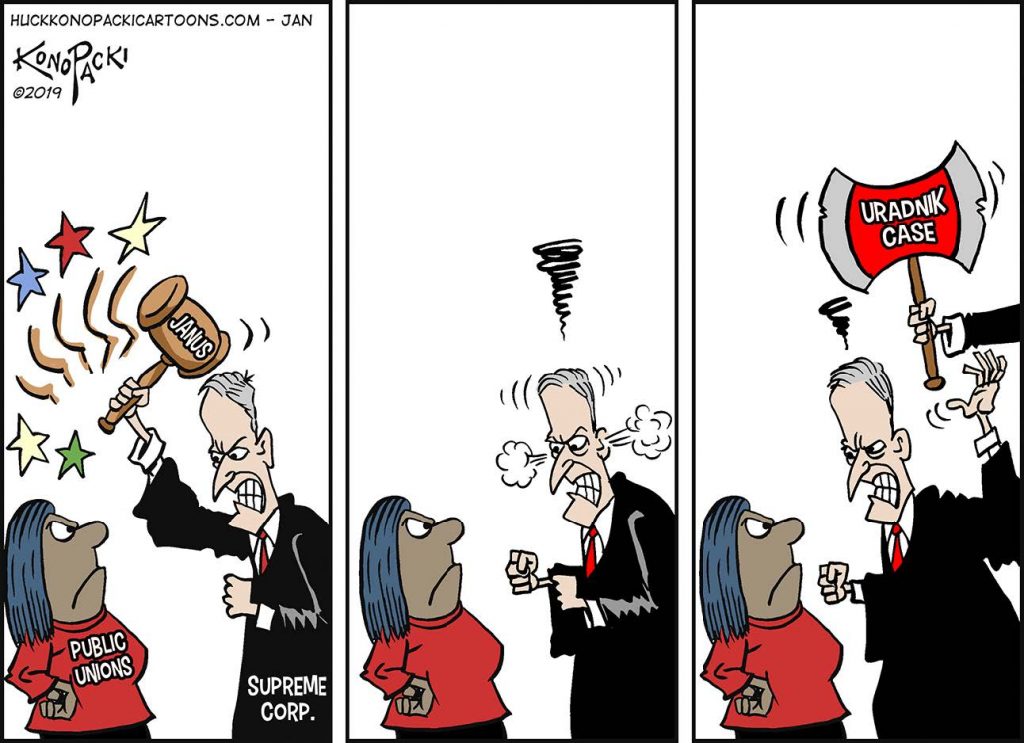 The U.S. Supreme Court may soon consider its first major labor case since Janus v. AFSCME Council 31.
An Ohio-based group that advocates for billionaires and CEOs has filed an appeal to the Court in Uradnik v. Inter Faculty Organization, which seeks to declare exclusive representation for public unions unconsitutional.
The case is being filed on behalf of Kathy Uradnik, a professor at St. Cloud University, a public university in Minnesota, against the Inter Faculty Organization (IFO), the union that represents faculty at Uradnik's university.
Uradnik, who is not a member of her university's faculty union but is represented by the union contractually, claims that the requirement that the union still negotiate on her behalf violates her right to free speech.
Under the law, public unions must represent in contractual matters every worker who is included in the bargaining unit.
Union exclusivity rights allow one union to act as the representative for a group of workers. Once a union is certified to represent a bargaining unit, no other union can represent those workers in those titles.
If this were to end, we could see multiple unions vying to represent workers in the same titles in the same workplace, undermining our power.
This case is being funded by the same deep-pocketed, anti-union groups that bankrolled Janus v. AFSCME Council 31. Many experts believe that this case represents the next step in our opponents' drive to weaken unions.
While the Uradnik case was dismissed by a federal appellate court, it was recently appealed to the Supreme Court, which has yet to decide whether it will hear the case.
Even if the Court chooses not to hear this case, there are many similar cases that are making their way through the court system. More so, the majority of the Court's nine justices traditionally side with billionaires and corporate interests.
No matter what the Court decides on the Uradnik case, it won't change what we have been doing. We are continuing to reach out to our members to listen to their concerns and work together to build a stronger union. We know it's better to be union to help ensure better pay, fair health benefits, secure retirement and more. We will Stay Union, Stay Strong!