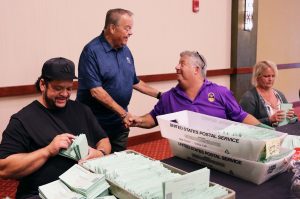 ALBANY — CSEA-represented state Executive Branch employees have ratified a comprehensive contract agreement with New York state. Each of CSEA's four bargaining units (Administrative, Institutional, Operational and Division of Military and Naval Affairs) individually approved the agreement.
"CSEA's negotiating team worked tirelessly to secure a well-rounded agreement that provides hard-earned cost-of-living increases while keeping health insurance expenses reasonable for working families," said CSEA President Danny Donohue. "This contract is the product of members negotiating as a team for what is fair, and it recognizes the exceptional value of our members' innumerable contributions across the state. Our dedicated public-sector employees are the often-unrecognized backbone of our communities."
The five-year agreement includes the following provisions:
Yearly 2 percent wage increases (with retroactive pay)
Improvements to the longevity payment structure
Modest increases in health insurance co-payments
Double-time overtime pay in the Offices of Mental Health and People with Developmental Disabilities to control the excessive mandated overtime rampant in that sector.
The Civil Service Employees Association (CSEA) is the largest public-sector union in New York, representing more than 60,000 state employees. CSEA's members come from all walks of life and provide skilled, valuable support to the public, including road maintenance and construction services, waste management, transportation, school district administrative support, mental health services, probation and public safety services and so much more. CSEA's role is to give workers a voice on the job, ensuring fair and safe work practices for working people across all of New York.