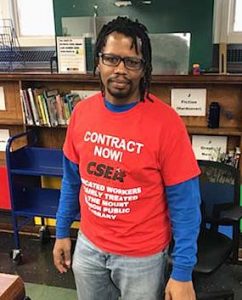 MOUNT VERNON — While workers in non-union jobs are at the whims of their employers, union members know that the language in their union contracts protect them from that fate.
Just ask CSEA members from our Mount Vernon Public Library Unit.
A recent state Supreme Court ruling required an arbitrator to order management to adhere to an equity clause negotiated long ago in the library unit's contract, which stated that contractual wages for library workers must match those of the CSEA members in a separate bargaining unit at City Hall.
CSEA regional attorney Nathaniel Charny, who handed the case, said the ruling was a significant win.
For years, library management has refused to honor that clause in negotiations, something that was written into the contract in the early 1990s, but had been in practice since the late 1970s. As a result, workers have gone five years without a salary increase and management has used taxpayer funds to fight the fairly-negotiated contract language.
"The legal fees are enormous," said Mount Vernon Public Library Unit President Gary Newman, a research librarian. "I'm sure the people of Mount Vernon would much prefer to have their money spent on books, programs, and computer services, and, yes, on a fair salary increase for library workers. We need to move on."
The court ruling was welcome news to unit members, who have showed their solidarity during the long negotiations process and recently began wearing CSEA T-shirts to work each day to spark conversation about the dispute.
"I hope this ends it," said CSEA member Nishan Stepak, a librarian. "We should all be working together, not fighting. But if we have to keep fighting, we will."
As this edition went to press, Newman was unsure if library officials planned to appeal the judge's ruling, but he said hoped the decision means workers are closer to receiving long overdue raises.
"We really need our money," said CSEA member Robert Copeland," a maintenance worker. "I only hope the library stops fighting us."
— Jessica Ladlee