WADING RIVER — Hundreds of Suffolk Educational Local 870 members recently gathered together for a day of learning more about our union at the Suffolk Educational Local 870 10th Annual Member Conference.
This year's conference was held in memory of former CSEA Long Island Region Director Heidi Horn, who recently passed away. The theme of the event was "10 Years Union Membership Strong."
CSEA Suffolk Educational Employees Local 870 President Maria Navarro said the conference — attendee totals and programs — has steadily increased over the past 10 years.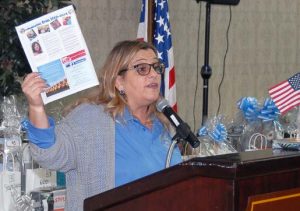 "I am proud of our CSEA school district members who continue to come out in increasing numbers to support our annual Local 870 membership conference," Navarro said. "Our motto of teamwork proves effective when Local 870 officers, staff, retirees, committee members and participating providers show their activism in preparing to make our conference a huge success!"
Navarro added that like the conference, the local is staying union and staying strong.
"Despite the Janus decision, Local 870 has increased our conference attendees from 300 [members attending]to 775 [members attending]over the past 10 years, and total local signed members [has increased from]6,500 to 7,128! CSEA Local 870 school district support staff understand that membership is right! We are a team and we will never quit!"
Conference programs are helping our Local 870 members stay strong.
Workshops such as "Member Benefits," "Retirement" and "Building a Plan for Our Future" gave attendees the professional and personal tools they need to strengthen the foundation of our union and improve their lives off the job. The Pearl Insurance-led "Jeopardy" workshop gave members the chance to learn more about supplemental insurance programs offered through CSEA and Pearl Insurance, while enjoying the lively game.
With philanthropy being the center of most CSEA functions, the local held a special raffle. All proceeds were donated to the Healing Haven Animal Foundation in honor of Detective Brian Simonsen, a Long Island native who made national news when he was killed while responding to an attempted robbery.
Members also donated several crates of school supplies, which will be given to local children in need.