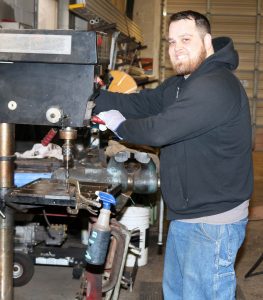 Editor's Note: The contributions of CSEA's shop stewards are immeasurable. They communicate important union information, help address members' concerns and serve as the face of our union at their respective work sites. In our ongoing effort to showcase the dedication of these very important activists, the "Principal Steward Profile" was born. This month's principal steward is Brendan Collins, who is a laborer in the Town of Brookhaven maintenance shop. He has been working for the town for 10 years.
Long Island Reporter (LIR): What made you decide to become a shop steward?
Brendan Collins (BC): I've never had a problem talking to people and people don't usually have a problem talking to me. I expressed that I wanted to be able to help my co-workers and be "in the know" about union activities. Other people who were already involved in the union asked me if I wanted to get more involved, and I've been running with it ever since.
LIR: Why do you think that those activists decided to approach you?

BC: I have a good personality and am pretty easy to talk to. I get along with pretty much everyone here.

LIR: How long have you been a shop steward?

BC: About a year and a half.

LIR: What's the most rewarding thing about being a shop steward?

BC: Being able to help my co-workers. A lot of people don't know the ins and outs of how things are and they unknowingly sling around bad information because they were misinformed, then other people get confused. I like that members can come to me and I can help clear things up.

LIR: What's the most challenging thing about being a shop steward?

BC: Trying to find a happy medium between workers and the administration.

LIR: How do you do that? It must be difficult when everyone in the situation has different wants.

BC: Well, usually I have a copy of the contract and I'll sit down with whomever has a problem. We'll go over the contract together and try to find where there's a discrepancy.

LIR: What's the most common question that you get asked?

BC: The most common questions are usually in relation to overtime, overtime lists and seniority lists. People also want to make sure that the rules are being followed; they want to know that they are being called in when they should be.

LIR: Did you have a mentor?

BC: Yes. My unit president, Mike Morris, has been a big help to me. He's been taking me to all of the meetings, showing me the ropes and teaching me how to do things properly. Kevin Norwood is another one. He helped me out with any questions that I had and then Dave Warnken, he's our unit secretary. He's the one that really got me in with the union. I was talking to him a lot about CSEA and he connected me with people that could help me.

LIR: What were the shop steward classes like?

BC: The classes were very well taught and I learned a lot of the basic information that I needed to start. I think that the classes are really helpful. I've been learning a lot through the classes that I've taken and my experience as a shop steward.

LIR: What advice would you give to a potential shop steward?

BC: You have to be very personable, be able to get along with people and be able to see a problem from both sides. Be open, people are going to want to talk to you and you have to be willing to hold conversations.

LIR: If there was one thing that you would want people to know about being a shop steward, what would it be?

BC: It's great! I like being the first step in the process and I like getting to help out my co-workers.

LIR: Any closing thoughts?

BC: Just that this past year and a half has been great experience, I'm happy that I got involved and I'm looking forward to the future with our union.
Visit the CSEA Education and Training page:
cseany.org/field-services/education-and-training-2/ for a schedule of trainings including steward training.