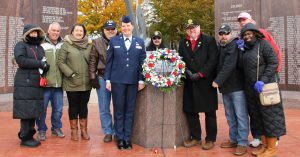 On Veterans Day, CSEA members across the state recently honored those who served our country in uniform, including many of our own union brothers and sisters.
"To our members and all veterans who have served, or are currently serving, thank you for your service," CSEA President Danny Donohue said. "To our members, we honor your service to our country and our union."
In Buffalo, more than 100 CSEA members and invited guests recently attended our annual CSEA Western Region Veterans Day Ceremony held at the Buffalo & Erie County Naval & Military Park. The event was sponsored by the Western Region Veterans Committee. The event and committee is chaired by Erie County Local activist Amy Owczarczak, who is also a reservist for the United States Air Force stationed in Niagara Falls.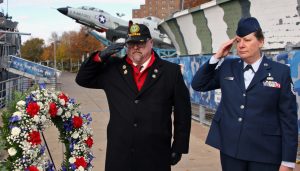 Western Region Veterans Committee member and region 1st Vice President Timothy Finnigan served as master of ceremonies. CSEA Western Region President Kathy Button and attendees paid tribute to the many people who have selflessly served and continue to serve our country in the name of freedom.
The program included a 21-gun salute from the VFW 1419 out of Hamburg, laying of the wreath, a carnation dedication in memory of veterans who gave the ultimate sacrifice, the American flag folding ceremony and speeches from invited guests and local dignitaries.
On Long Island, the region's Veterans Committee held a ceremony in Hauppauge to honor those who served. The event also included a remembrance ceremony for those who gave their lives for our country.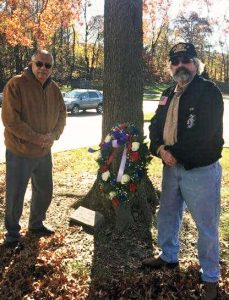 Southern Region officers, activists and region Veterans Committee members also held a ceremony outside the region office in Beacon to honor those who served, and continue to serve, in the Armed Forces.
— Ove Overmyer, Wendi Bowie and Jessica Ladlee