The 9th Annual Region One Golf Classic continues to be a great event, which members attend to support the region's Send a Kid to Camp Scholarship Fund.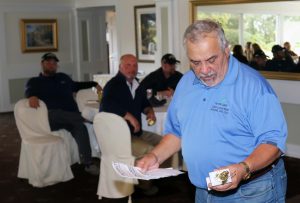 The scholarship fund was created to send the children of CSEA members to summer camp. This year, the event raised $5,000.
Long Island Region President Nick LaMorte said that he had our newer members in mind when he created the scholarship fund.
"Everyone raises money for college scholarships, which I think is a wonderful thing to do," said LaMorte. "It just occurred to me that no one was doing anything for our newer members with small children. I'm always happy when I get positive feedback from our scholarship winners, who tell me how much the award has helped them."
— Wendi Bowie