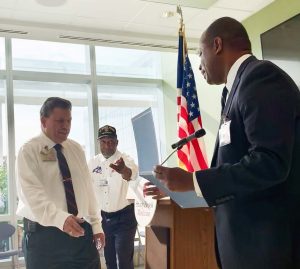 STONY BROOK — Like many of our Long Island Region members, our SUNY Stony Brook Local 614 makes it a priority to honor our veterans.
That is why the local recently held a Stony Brook Hospital Veterans Day Luncheon.
SUNY Stony Brook Local 614's newly-appointed Veterans Committee Chair, Freddie Eddins, said he was inspired to create the luncheon after being disappointed with previous Veterans Day gatherings at the hospital.
While previous Veterans Day ceremonies on the SUNY Stony Brook campus included hospital administration staff, no such ceremony existed at the hospital.
Eddins, a U.S. Army veteran himself, was determined to change that.
"Last year, there were seven or eight veterans outside saluting the flag in the rain," said Eddins. "That really ticked me off, so I approached our local president Carlos [Speight] and asked him to give me a chance to build the ceremony up because the veterans deserve better."
Eddins made a promise to Speight that if he was appointed the local's Veterans Committee chair, he would create an event that would not only honor our veterans, but boost respect for our union and the hospital.
Speight agreed and Eddins hit the ground running.
"I wanted everyone to know that CSEA is leading the way in the development of this veterans' program," said Eddins.
Eddins began by contacting various hospital department heads to identify which hospital workers are veterans.
With Speight's help, Eddins took the information that was gathered and compiled a list of veterans who worked in the hospital. He used that list as a contact sheet for the hospital Veterans Day ceremony.
Eddins then spoke with Stony Brook Hospital CEO Ernest Baptiste, also a veteran, who modeled a program for the ceremony, based on a ceremony that he attended at another university.
A 26-year hospital employee, Eddins was able to use his contacts to arrange for the veterans luncheon to be catered by workers in the hospital's food services department.
As a result of all of Eddins' hard work, the luncheon was a big success.
"I got nothing but positive feedback from everyone who attended the event, so I know I'm doing the right thing," said Eddins. "I feel like a teacher who just graduated his whole class."
Eddins' future plans for the SUNY Stony Brook Local's Veterans Committee not only include further expanding the hospital's Veterans Day ceremony, which he intends on making an annual event, he also wants the committee to act as a resource for local veterans.
"I really want to take this committee to another level," said Eddins. "I've been working with veterans to brainstorm on ways to organize events for veterans and to get veterans acknowledged at Stony Brook's athletic facility, before every game."
Eddins also plans on using his office as a center of information for veterans.
"I'm going to have information available to veterans so they know what kind of benefits they have access to," said Eddins. "There are about 150 places on Long Island where veterans can get discounts, and a many of them don't know about that."
Eddins wants the Stony Brook Local 614 Veterans Committee to show that veterans are important contributors to Stony Brook Hospital.
"I want everyone to know that veterans work in positions all over the hospital and they're making a difference," said Eddins."
— Wendi Bowie