COMMACK — CSEA members know exactly how important it is to support candidates who stand with working people.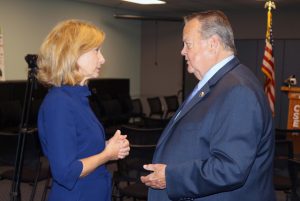 That is why our activists make it a priority to volunteer their time to the campaigns of CSEA endorsed candidates.
During election season, our members participate in phone banks and knock on the doors of community members and encourage them to support candidates who have been endorsed by our union. Our members interview candidates, review voting records and determine whether candidates have our members' best interests in mind, regardless of political party.
Occasionally, there are press conferences, which officers and activists attend in order to show support to CSEA endorsed candidates.
The best way to preserve our union is to be registered to vote, exercise your right to vote and to be well informed about the candidates and their stances on issues. Get out and vote on November 6!