CORAM — For CSEA, the career development of our membership is of primary importance, which is why the CSEA WORK Institute introduced a CSEA sponsored Commercial Drivers License (CDL) Class A or B tractor trailer training class.
CSEA's WORK Institute administers grants to provide members access to career development and training services. They garnered funding for the training from the Work Force Development Institute.
The classes are of no cost to CSEA members.
To date, more than $140,000 has been secured in grant money for approximately 50 program participants to complete their CDL Class A or B tractor trailer training.
The training includes permit preparation, a state Department of Transportation medical exam, hands-on tractor trailer driver training for road test preparation and the New York State DMV road test fee.
Long Island Region President Nick LaMorte, Town of Brookhaven Highway Department Unit President Wally Greene and Town of Southold Unit President Tom Skabry approached the CSEA WORK Institute to inquire about available funding to help with workforce needs.
"A lot of members are retiring right now," said Greene. "We need to have the newer [workers]coming in to be licensed to fill the voids."
Several other Suffolk County Local 852 units in Southold, East Hampton, Southampton, Smithtown, Riverhead and more have all had members attend the training.
"We're really trying to get the word out on what the benefits are of being a CSEA member," said LaMorte. "We want to be sure that all of our members on Long Island have equal accessibility to benefits."
Member response has been very positive.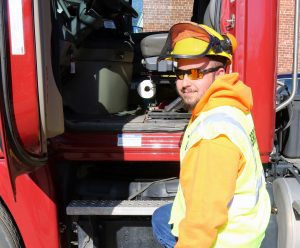 "I took the CDL license test before I attended this training and I failed," said Automotive Equipment Operator Steven Giannico. "I don't think I could've passed the test without having taken this training program. The class really helped me."
"I wouldn't have expected for a benefit this costly to be available to us," said Town of Brookhaven Automotive Equipment Operator Joe Cizan. "Before this training came out, some guys didn't take the CDL class because they couldn't afford it."
"This class is making our members better drivers and more educated on overall vehicle operation, said Greene. "You have to have a certain class license to drive certain town vehicles and be eligible for promotions. This training has broadened our members' career trajectory by opening the promotion field by 75 percent."
The trainings are also helping with the overall productivity of workers.
"There will be more vehicles on the road because members have been taught to drive them," said LaMorte. "And it comes at no expense to the taxpayer."
This program is great because it's beneficial to both CSEA members and our cash strapped municipalities," said Skabry. "Now, our more seasoned workers and our newer workers can learn new skills or refresh their current skills through on-the-job training."
As for future plans, the hope is to work with the CSEA WORK Institute to get more grant money so more members on Long Island can take the class.
"It's really a win-win for the town and our members," said LaMorte.
— Wendi Bowie