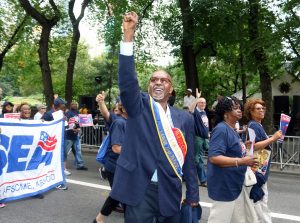 MANHATTAN — Our Long Island Region members recently joined our sisters and brothers from the Metropolitan and Southern regions in standing strong during the New York City Labor Day Parade.
The parade is sponsored by the New York City Labor Council in honor of union members throughout the region.
This year, Metropolitan Region President Lester Crockett served as parade chair. Our members marched up Fifth Avenue to show we are staying union and staying strong. Also joining our members was Statewide Secretary Denise Berkley.
Long Island Region President Nick LaMorte said he thinks it's important to pay homage to the union members who came before us. "The New York City Labor Day Parade serves as a reminder to America that the middle class was born from the toils of labor," he said. "The parade is a symbol of union solidarity."
— Wendi Bowie