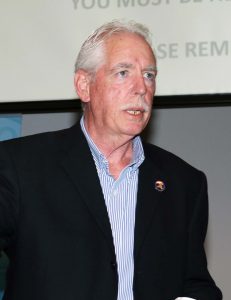 COMMACK — Now that the U.S. Supreme Court case Janus v. AFSCME Council 31 has been decided, it is more crucial than ever for our union to spend our dues money wisely.
For this reason, CSEA is working hard to ensure that treasurers on every level of our union have the knowledge they need to make the right choices on behalf of our members.
CSEA Statewide Treasurer Bill Walsh recently visited the Long Island Region to educate local and unit treasurers on how to properly fulfill their duties.
The three and a half-hour course is packed with helpful information like how to keep accurate records, preparing required annual reports and how to enforce regulations outlined in the Financial Standards Code. The class also satisfies the mandatory constitutional training requirement for treasurers.
Walsh, along with union staff, has been leading three trainings in every region in an effort to reach as many treasurers as possible.
CSEA has plans to increase the accessibility of trainings.
"We're planning on doing more of the treasurer training online," said Walsh. "We want to make these sessions as convenient as possible. We'll also be doing more video conferences,"
Members who attended the session were very pleased with quality of the training.
"This class sheds light on the new position that I've obtained," said Angela McLoughlin, who recently became the treasurer of the Brentwood Union Free School District Monitors and Teacher Assistants Unit. "As a newcomer, it's really important that the transition from the previous treasurer to me is smooth."
— Wendi Bowie