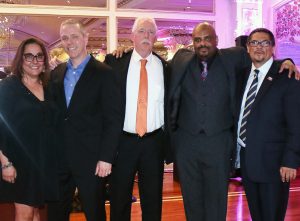 WESTBURY — CSEA activists recently joined other members of the labor community to celebrate award honorees and scholarship recipients at the Labor Council of Latin American Advancement's Long Island Chapter's (LCLAA) 7th Anniversary Scholarship Gala.
At the event, CSEA Statewide Treasurer Bill Walsh was honored for his contributions to the labor movement.
"It was really an honor to be recognized in that fashion because I never thought of myself as one to stand out because I've always wanted to promote working people and we're all part of a team," Walsh said. "The individual receiving the award is never alone and is part of something bigger than themselves, which helps us grow as leaders. While we may come from different backgrounds, we all fight for working people together."
CSEA members have long been active in LCLAA, an AFL-CIO constituency group that represents about 1.7 million Latino/trade unionists throughout the United States, including Puerto Rico.
LCLAA members engage in different creative programs promoting political empowerment, cultural pride and economic development of Latino workers and their families.
CSEA Port Washington School District Unit President Ritchie Acevedo serves as president of LCLAA's Long Island Chapter.
— Wendi Bowie