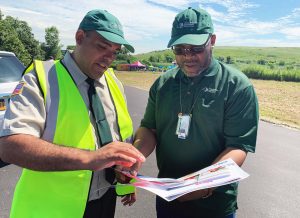 BROOKLYN — Not unlike its namesake, the newest and largest state park in New York City rises far above sea level providing a view of the promise punctuated by the city's iconic skyline.
The first section of the Shirley Chisholm State Park, with spectacular views of the Manhattan skyline and the Verrazano Narrows Bridge, officially opened in early July. It was created above a landfill that closed in 1983.
"This is my first day on the job and it's also the opening day of this park, so I'm very excited," said Park Ranger Efendy Vasquez at the park's recent grand opening.
CSEA members not only played a key role in creating the park, but are maintaining it.
To reclaim and repurpose the 407-acre park, an impermeable plastic cap and a below ground barrier encapsulates the landfill. Over 1.2 million cubic yards of clean soil were then spread up top four feet deep across the site.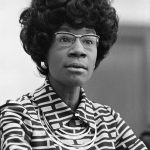 The park is named for U.S. Rep. Shirley Chisholm, a groundbreaking public servant who was the first African American woman elected to the U.S. House of Representatives and also the first Black candidate from a major party to run for President.
Chisholm served in the House from 1969-1983, representing the 12th Congressional District, which included parts of Brooklyn during her era. She passed away in 2005.
Known as a visionary who introduced and passed legislation providing free school lunches, she's also known as the legislator who was unbought and unbossed.
"Congresswoman Chisholm served as an inspiration to many New Yorkers," said New York City State Employee Local activist Ricky Davis, a park supervisor 1 at Riverbank State Park who attended the grand opening. "With this park, I am hopeful that more New Yorkers will come to know her legacy and the importance of having this park named for her."
Open year round, the park offers 10 miles of biking and hiking trails, a loaner bike station, waterfront access, picnic facilities and environmental education, including fishing and guided bird walks.
The second phase of the park, due to be completed in 2021, is expected to include lawn patios, expanded environmental education facilities and an additional park entrance.
— David Galarza