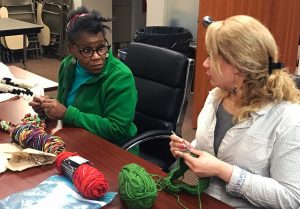 MANHATTAN — They met to share patterns, but have since developed a tight-knit circle.
Members of the CSEA Metropolitan Region Crochet Circle have been busy since last summer learning or reconnecting with this timeless craft and are planning to share their creations with veterans and babies in delicate health.
"Both my grandmothers taught me how to knit," said Yolaine Thomason, who works for the state Department of Taxation and Finance. "It's a great thing for your hands."
The circle was started by Metropolitan Region Secretary Delphine Moultrie as a way to bring people together and
strengthen our union's social fabric.
"Some people come in and talk about their knitting experience; others may talk about their jobs and discuss union issues," said Moultrie. "That's why it's a crochet circle."
Theresa Toliver, president of our New York State Psychiatric Institute Local, was always interested in learning a variety of crafts and decided to teach herself how to knit by picking up a book on the topic. "There was no YouTube back then," she said
"I couldn't read patterns," said Toliver. Then, she started working for the state and learned to read patterns from another co-worker during their lunch breaks.
"I'm still learning," said Toliver, who was inspired to knit socks after seeing knitted socks that were worn by veterans in a museum.
New York Metropolitan Retirees Local member Genora Brimfield was also drawn to the circle. "It's free and we're doing something for the community," she said. "We also have comradery here."
At a recent group meeting, the circle members were proud to display the many blankets and baby hats they planned to deliver over the holidays to babies in hospitals and veterans in nursing homes.
Making these items these last few months has also been a gift to these members.
"It helps me to relax and reduce stress," said Brenda Romero, a mental health therapy aide at the New York Psychiatric Institute who was working on a headband.
"It's a fruitful ambiance, we have a common interest and we get to know people. It's exciting to see everyone's progress."
— David Galarza