WHITE PLAINS — On a regular day, a water main break can mean long hours for our members making the repairs.
When the wind chill is 15 to 20 degrees below zero, it takes things to a new level.
"It hasn't been this cold in 30 years," said CSEA member Steve Meszaros, general foreman for the Town of Greenburgh Water and Sewer Department and a 38-year town employee. "We were dealing with 50 mile per hour winds and single digit temps, and we were out three or four times through the night."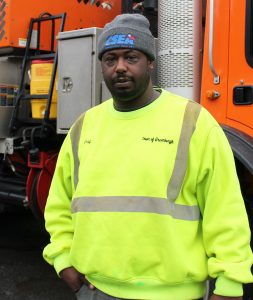 Water main breaks were just the tip of the iceberg, no pun intended. Workers repaired more than a dozen leaks during the blast of arctic weather, with jobs ranging from 16-inch pipe to a ¾ inch service line leak.
On top of that, workers handled multiple sewer backups, fire hydrant repairs, and more than a dozen water meters inside residents' homes that had to be replaced after freezing.
Broken pipes and shutoffs at homes were numerous, said CSEA member John LaVigna. At one house, workers even had to create a makeshift shield to protect them from water spraying from a burst pipe as they worked to replace a frozen meter.
According to CSEA member Charlie Gray III, a foreman, workers wore five to six layers of clothing, along with scarves and hats, allowing them to get the job done.
The work put some wear and tear on members' work gear, said Meszaros, noting that workers there went through a dozen pairs of work boots and three dozen pairs of gloves over the course of the worst weather.
— Jessica Ladlee