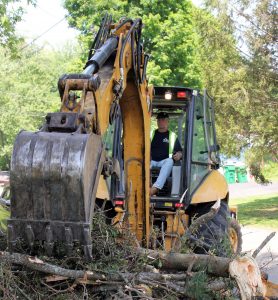 WAPPINGERS FALLS — One recent afternoon of extreme weather left communities in the Hudson Valley reeling, as multiple tornadoes and one macroburst caused widespread destruction, power outages and several confirmed fatalities across the area.
While many CSEA members faced damaged roofs, downed trees and other damage at their own homes, their focus was on their communities. They remained at work after their normal workday ended, while others headed back to the job.
"As soon as the worst of the weather passed, our members were out with backhoes, trucks and chainsaws," said Southern Region President Billy Riccaldo. "Our members' quick action ultimately prevented further tragedy. Their initial work cleared up roads our first responders couldn't access, and their efforts in the days that followed cleared away tree limbs at risk of falling and allowed our brothers and sisters from the local utility companies to safeguard fallen wires."
Town of Wappinger Unit members were at the forefront of storm recovery in their community, where winds reportedly reached 105 miles per hour. The days following the storm kept town Highway Department workers occupied with chainsaws, cutting up tree limbs, using backhoes to remove the many huge trees that were toppled and carting away numerous dump trucks filled with debris.
With such extreme weather becoming more common, CSEA members here said that our members' experience on the job makes all the difference in helping their community recover. As bad as the damage was, workers said that the longtime members' experience went a long way in keeping storm cleanup moving while still looking out for safety.
"Experience matters," said Dutchess County Local President Liz Piraino. "Work of this magnitude requires seasoned workers leading the way, and that's what we had here. They were able to safely carry out work that is much more dangerous for workers unaware of what precautions to take and how to safely operate equipment."
— Jessica Ladlee