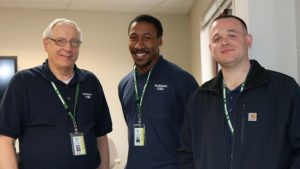 YORKTOWN HEIGHTS — It's become common for school district leaders to tap veteran staff to mentor new administrators and teachers, a program that has helped many in education become more quickly accustomed to their new roles.
When the Yorktown Central School District hired a number of new custodians and cleaners this year, Superintendent of Schools Dr. Ron Hattar realized that teachers and administrators weren't the only ones who could benefit from mentorship.
"We were seeking out ways to support the people we hire," Hattar said.
That's when he approached CSEA for support in starting a mentorship program for recently hired custodians, cleaners and tradespeople.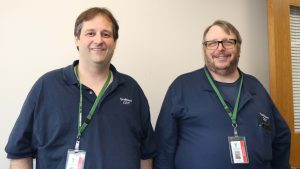 "We were all on board," said Yorktown School District Unit President Steven Abbruzzi. "It's a good idea that benefits everybody. There is no better resource for new workers than people who've been doing this job for decades."
Hattar called on two CSEA members working as head custodians in the district, Rocky Serrecchia and Jimmy Seaboldt, to serve as mentors. Each man has taken a half dozen or so workers under his wing.
Serrecchia said he was happy to step up in this added role. He said he hopes that sharing his knowledge will help newer workers increase their skills and move up in the district.
"A lot of people have never cleaned buildings before or worked with some of the machines we use," Serrecchia said. "Over the winter break, I trained guys on the machine we use on the floors. I taught [another person]how to change ballasts. These are skills that will help them get promoted and that's what I want for them."
Seaboldt, who has been employed by the district for 29 years, agreed.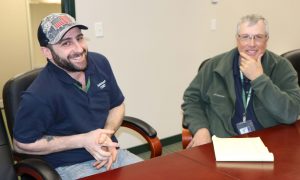 "I thought it was a great idea," said Seaboldt. "I'm glad to share some of the knowledge I've learned over the years. We're available to answer any questions when they come up, and also to help learn specific things such as how to strip and wax floors or another skill. We also know the buildings in the district really well, so we're able to help when an issue comes up in a specific building."
Both Serrecchia and Seaboldt stick around after work to chat with newer workers and see where they can help. With the mentorship program being new this year, Hattar said the district will make adjustments to the program if needed, but said he has been pleased with its success so far.
He noted that it's the first mentorship program of its kind that he is aware of in the region.
Abbruzzi and his unit vice president, Ed Frederick, said they've already seen the benefits mentorship has had for our newer members and hope the program will have the added benefit of lowering job turnover.
"We see this as helping set our new members up to succeed," said Abbruzzi.
— Jessica Ladlee