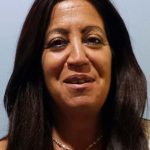 VALHALLA — Sue Fontana has worked at Westchester Medical Center since 1999, but she wasn't an immediate union activist.
Like many who step up in CSEA, it was when she encountered workplace challenges that she found her voice to help build a stronger union.
As an activist, Fontana learned the essential role political action plays in building a stronger labor movement.
Advocating for workers by building relationships with lawmakers was crucial to maintaining the hospital's public mission, so when another of our members approached Fontana about signing up for PEOPLE — Public Employees Organized to Promote Legislative Equality — she realized that a small donation per paycheck could help working people make a big collective impact in Albany, Washington, D.C. and in her community.
"Once I became educated about the threats to working people, I knew I had to do my part," said Fontana, who eventually became a PEOPLE recruiter and Southern Region PEOPLE chair. "Working in a public hospital, I realized that the groups waging attacks against average working people are also fighting to eliminate the resources we depend on to treat our patients."
When CSEA PEOPLE Coordinator Denise Felt asked Fontana to organize a PEOPLE drive at the hospital, it didn't take much convincing.
Fontana, who has volunteered for CSEA's member engagement outreach, realized that the same buzz created when CSEA's member engagement teams visit work sites could boost PEOPLE outreach.
"Just like our member engagement visits, having a PEOPLE recruitment drive allowed us to have one-on-one conversations with members and really make sure they understand how this directly impacts us as workers and health care providers," Fontana said. "It's great to have PEOPLE tables at CSEA events and posters on our bulletin boards, but nothing beats member-to-member outreach. Now people here are fired up about the constitutional convention vote and they understand how Right-to-Work would hurt us."
That PEOPLE recruitment drive resulted in 27 new signups, and Fontana hopes to soon hold another drive.
— Jessica Ladlee