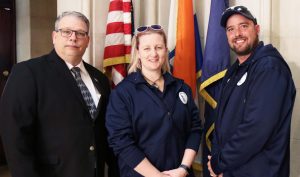 ALBANY — The City of Albany and CSEA are teaming up on a peer trainer program that is already improving safety.
CSEA and city officials recently announced the new training partnership for the city's Department of General Services employees, whose jobs include sanitation, maintenance and grounds and highway maintenance.
Our union's Peer Trainer program is a labor-management initiative that focuses on training workers on best practices to help eliminate all preventable workplace injuries and fatalities stemming from hazardous job duties.
CSEA's Peer Trainer Program is funded from two five-year federal grants that CSEA receives from the National Institute of Environmental Health Sciences. These grants allow CSEA to provide training at no cost to the workers or the employer, to create safer working conditions. The program also provides the employer with additional resources to work toward a workplace free from recognized hazards.
"CSEA is proud to partner with the City of Albany to bring federal monies to fund this important safety program that will benefit workers and residents alike," said CSEA President Danny Donohue. "This program is a great example of the value of a strong union. Our Peer Trainer Program saves lives."
At a recent news conference announcing the partnership, City of Albany's Department of General Services (DGS) Commissioner Sergio Panunzio said the city is already seeing decreases in workplace injuries and workers' compensation claims, following a one-week pilot program on Temporary Traffic Control that took place last November.
"The numbers are positive," Panunzio said. Thank you to CSEA for their continued partnership."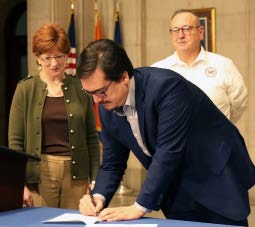 "This program is an important and innovative tool that will help ensure our DGS employees' continued safety," said City of Albany Mayor Kathy Sheehan. "I sincerely appreciate CSEA's partnership with the City of Albany and Department of General Services and thank Commissioner Panunzio and Danny Donohue for helping bring this program to DGS."
The on-site, hands-on training will begin this spring, both in English and Spanish. A group of DGS peer trainers will gain knowledge in work zone safety, lockout-tagout, and a comprehensive all-hazards curriculum.
These employees will in turn provide training to their co-workers.
"We're going to keep going until all of the employees have been provided the required training," said Janet Womachka, CSEA Occupational Safety and Health Department's Peer Trainer Program Coordinator.
The site-specific skills learned in these classes can be used in both emergency situations and day-to-day job tasks, such as work zone and sanitation safety.
More than 200 state and local government worksites participate in this program and serve as an information-sharing and support network.
"We are all excited about the program and the safety improvements it will bring," said City of Albany DGS Unit President Dan Futia.
Speaking at the press conference, CSEA Director of Occupational Safety and Health Matthew Kozak summed up the importance of the program. "This truly is a lifesaving initiative," he said.
— Therese Assalian