SARATOGA SPRINGS — 'What are your dreams?'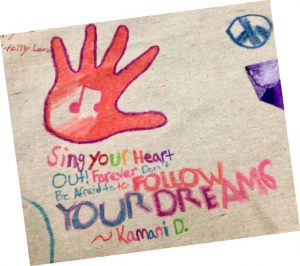 That was the question posed to children attending a unique program at the close of the Capital Region's Spring Conference.
CSEA/VOICE Local 100A President Pam Wells, who is also a child care provider in the Capital Region, and CSEA Director of Early Learning and Care Program Denise Dowell, conducted the training to teach children about the labor movement.
They also wanted to hear from the kids about their lives, feelings and aspirations.
About 20 children, grandchildren, nieces and nephews of conference attendees, were provided with markers and crayons and asked to write and draw about their "dreams."
The result? A colorful, canvas mural full of messages of hope, self-reliance, positivity and peace.
Included in the program was a reading of the award-winning, labor-themed kids' book by Doreen Cronin, Click Clack Moo: Cows That Type. The story, set on a farm, illustrates the power of collective bargaining after the cows discover a typewriter in the barn and type a list of demands for the farmer that includes blankets and better working conditions.
The other animals join in and when their requests are denied, they all go on strike.
In the end, both sides form an agreement, the requested items are provided by the farmer, and the animals give up the typewriter.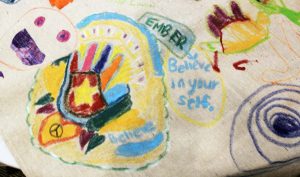 While the children's program was underway, the "grown-ups" were listening to a motivating speech from Anthony Harmon, president of NAACP's New York branch, who presented his "ups" for activists, including "stand up," "listen up," "speak up" and the importance of knowing when to "shut up."
The conference concluded with the kids filing in, singing and holding the mural for all to see.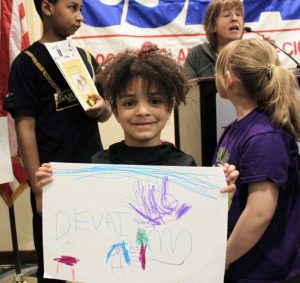 "Seeing the children and hearing their messages of hope, reminds us all what we are fighting for as part of the labor movement — fair treatment at work and the security to care for ourselves and our families," said CSEA Capital Region President Ron Briggs.
— Therese Assalian