ALBANY — Joe Eissing knows the best way to meet challenges from anti-labor groups is to stay union, stay strong.
That's why he's working hard to build our union, including at his own workplace, where his efforts at one-on-one conversations with members really connected them with our union.
For his extra efforts in union building, Eissing was recognized with our 2018 State Mission Achievement Award presented at CSEA's 108th Annual Delegates Meeting.
"It was an honor and privilege to be recognized and receive the Mission Achievement Award at the ADM," Eissing said. "I accepted the award on behalf of all our sisters and brothers who dedicate their time and efforts in ensuring unity in CSEA."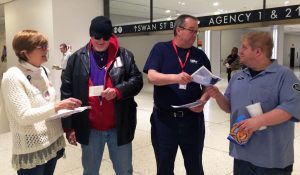 Bridging the gap
Through his interactions with new employees and nonmembers at the state Office of General Services, Eissing dramatically reduced the number of nonmembers at the agency.
Eissing, a motor vehicle operator who serves as 2nd vice president of our Office of General Services Local, said he "made it a mission" to reach out to workers to provide that critical introduction to our union not only by orienting Office of General Services employees new to state service, but by reaching out to longtime employees who were both full CSEA members and nonmembers.
"It really surprised me that most [workers]didn't even realize that they were not already full members," said Eissing.
In addition to one-on-one conversations, Eissing organized several lunch & learn sessions so members could learn the benefits and resources available to them as union members, but also to share the facts about how anti-union groups, elected leaders and corporate interests are trying to destroy unions.
"It's very important to me as an officer to talk to our members and share with them all the benefits of uniting and bridging that gap between members and nonmembers," he said. "It's critical to the strength of our union that everyone has some skin in the game."
— Therese Assalian