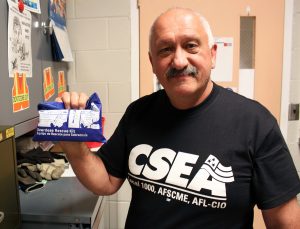 ALBANY — Thanks to training at a recent CSEA region conference, Jim Cross is now one of a small group of employees in his workplace authorized to deliver the life-saving drug naloxone.
It's a skill that he can use on or off the job.
The drug, most commonly known by its brand name, Narcan, is used to block the powerful toxicity of opioids, especially in an overdose situation that frequently results in death. When used right away, naloxone can reverse an overdose, saving lives.
Cross, president of CSEA's Wadsworth Center for Laboratories and Research Local, attended a training as part of our Capital Region conference in April.
"If there is something I don't know a lot about, I get curious," Cross said. He noted that his hometown, a rural community east of Albany, is struggling with the ongoing opioid crisis.
Cross described the training as "an eye opener," and said he didn't anticipate leaving the training armed with the ability to assist in a crisis. He also received two kits of nasal injections; one he keeps in his office and another in a bag that he travels with.
In addition to helping in an off-the-job emergency, Cross has found another potential use for his training.
Cross said he informed Anne Walsh, the associate director of Medical Affairs at the Wadsworth Center, which is part of the state Department of Health, that he had been trained to deliver the drug. That prompted a memo to all staff directing employees who to contact in the event of an incident. Those on the list, including Cross, are also AED responders.
Walsh's memo states, in part, "Because of the possibility of our Biodefense and Laboratory of Analytical Chemistry staff encountering high potency opioids when analyzing white powders for law enforcement, Wadsworth Center now has a naloxone program in place."
The Wadsworth Center, where 113 CSEA work in administrative, technical, operations and engineering titles, plays a leading role in public health testing for disease and potential environmental threats.
"I'm bringing this knowledge from a union training back to my workplace to be able to help others," said Cross.
Cross, a 26-year employee, said that because many people in his family work in the medical field, he is comfortable with helping in a medical emergency.
"I like to help when I can." he said.
— Therese Assalian
What you can do
Many CSEA members are facing the opioid epidemic both on and off the job. According to the Centers for Disease Control, more than 33,000 people in the United States died of opioid overdoses in 2015, a rate that has quadrupled since 1999.
In New York state alone, 2,754 people died of overdoses in 2015.
The epidemic has also made many of our workplaces more dangerous, as many of us must either clear drug-related debris or assist someone who is overdosing or otherwise under the influence of opioids.
If you are interested in receiving training on administering naloxone by auto-injector and nasal spray, contact your county health department or the state Department of Health at www.health.ny.gov.
We have numerous resources available to you to learn more about heroin and opioids, and how to ensure that your employer keeps you safe if you are faced with responding to the crisis on the job.
Learn more at cseany.org/osh.