VERONA – At our Central Region's recent Spring Conference, Region President Colleen Wheaton announced the recipient of the region's first-ever "Activist of the Year" Award: Central Region Judiciary Local Treasurer and longtime CSEA activist Sheila Sears.
Sears started as a union member in the early 1980s, becoming active as a SUNY representative for the Utica State Employees Local before switching to the Unified Court System in 1993.
She currently works as a law library assistant at the Supreme Court Law Library in Utica and serves as treasurer of the Central Region Judiciary Local. Over the years, she has held numerous union leadership positions, including serving as a region officer, a member of several statewide committees, and the current co-chair of our region's Education and Program Committee.
Wheaton presented the surprise award to Sears, noting her dedication to the union, her distinctive voice and her unique talent of being completely honest with everyone she deals with. "With Sheila, you always know where you stand," Wheaton said, with a chuckle.
Wheaton said that Sears does most of her work behind the scenes and is uncomfortable being in the spotlight, but that she was "well deserving of the award."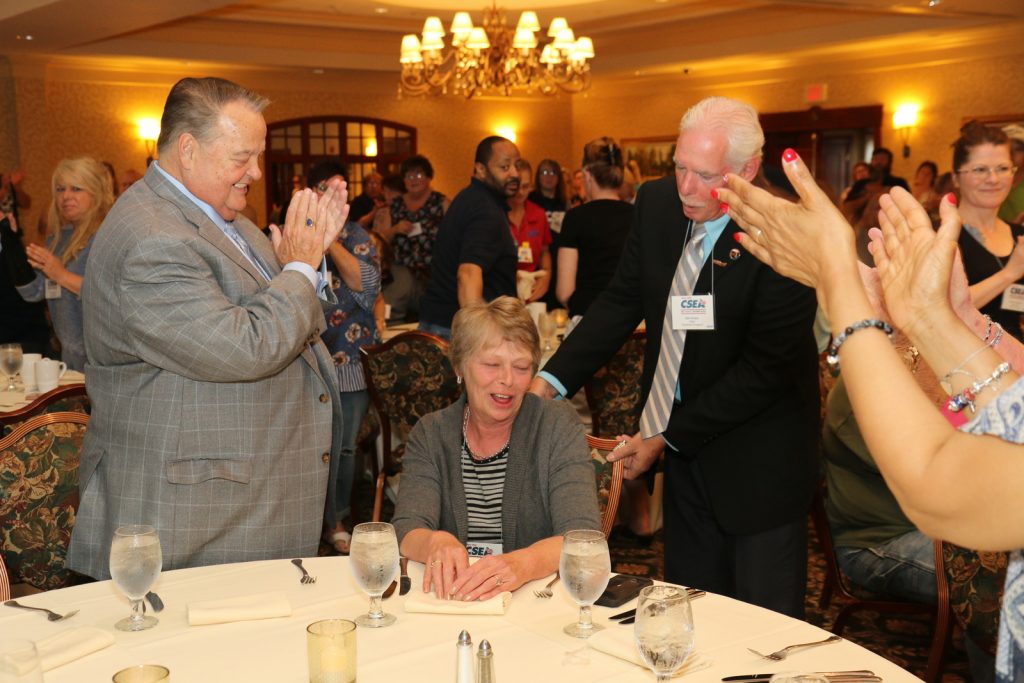 Sears received a standing ovation upon the announcement, including from President Danny Donohue, Executive Vice President Mary E. Sullivan, Secretary Denise Berkley and Treasurer Bill Walsh, who were all in attendance.
After accepting the inscribed crystal trophy award, Sears, known as a woman of few words, simply stepped up to the microphone and uttered a humble "thank you," before sitting back down.