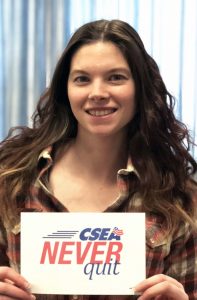 After working for more than three years in a CSEA-represented position in Oswego County, Jovanina Tyrrell recently started working as an office assistant at the state Department of Corrections and Community Supervision in Syracuse. After taking her new job, she made sure that she signed up to re-join our union. She is now a member of our Syracuse State Employees Local.
"I would never quit on our union because I remember why unions exist, and it's to protect our rights. I also remember our history 100 years ago and some of the travesties that workers were forced to endure just to keep their jobs.
I'm concerned that if we lose unions, we will lose our protections. That's a major reason for working in the public sector, along with our health benefits, for example.
I'm afraid that it won't happen overnight, but perhaps a little at a time, our benefits will be chipped away at until we have none, and all that has been worked so hard for by our predecessors will be lost."
— Jovanina Tyrrell, office assistant, New York state Department of Corrections and Community Supervision