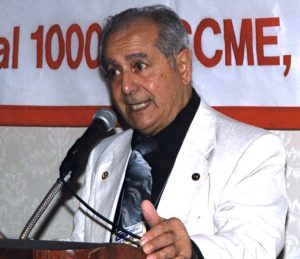 MOUNT MORRIS — CSEA is mourning the loss of former Retiree Division Chair Charles "Charlie" Peritore, 94, who passed away on Dec. 21, 2018.
Peritore, who had helped found our union's Retiree Division during the 1980s, had served our union for about 63 years, both as a state employee and later as a CSEA retiree. In both capacities, he served in numerous leadership roles on every level of our union.
He had entered state service at the former Craig Developmental Center in 1941, shortly before the U.S. entered World War II. Peritore opted to leave his position to serve in the U.S. Army, serving with distinction in the war's Pacific Theater.
Following the war, he returned to his job at Craig and became a CSEA activist. He also continued his military service for nearly 25 years in the Army National Guard.
After he retired in the early 1980s, he became a CSEA Retiree activist and chaired our Retiree Division for 21 years before stepping down in 2009. He was also a lifelong member of the Veterans of Foreign Wars and American Legion.
"Charlie served our union and country with distinction," CSEA President Danny Donohue said. "He proudly served our country in war and peace time, and proudly served our union. His contributions to our union have helped thousands of our members not only retire in dignity, but live a better life during their retirement years. We send our deepest condolences to all of Charlie's loved ones."
Peritore is survived by his wife, Bertha Peritore, also a member of the Livingston-Wyoming Retirees Local, children, grandchildren, great grandchildren and nieces and nephews.