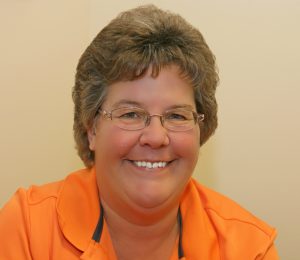 LYONS — A common phrase is that unions, including CSEA, are only as strong as our membership.
Our union's ability to negotiate good contracts that protect workers and our jobs, plus use our voices and votes to protect working New Yorkers, depends on emerging activists stepping up to take leadership roles in their union.
CSEA Western Region activist Kelly Savage happens to be one of those members — and that is why she was honored with the CSEA Private Sector Mission Achievement Award this year.
Kelly Savage, a 17-year household assistant employee serving the residents of the Wayne County Nursing Home and Rehab Center, is quick to deflect any attention away from her own personal work history and focus on the bigger picture of why it's important to unionize.
In 2015, the nursing home outsourced the food service, laundry and maintenance departments to SODEXO, which required negotiating a new contract for those employees.
"I knew we had to stick together if we wanted a good contract and any sort of benefits," said Savage. "At times, it was difficult to convince others that keeping our union intact was the right thing to do, especially for the younger employees."
CSEA Private Sector Specialist Mike Ottaviano, who nominated Savage for the award, said she stood with CSEA through "thick and thin" when other co-workers had doubts about the value of unionization.
"She was the guiding light and the driving force behind an unprecedented effort to keep union jobs at the nursing home," said Ottaviano.
Through many one-on-one conversations with co-workers, management and county officials, Savage's efforts yielded dividends with an approved five-year contract ratification vote in August 2016.
Savage says it's all about working together using a team approach across all shifts and departments.
"I admit it was a trying time during the transition, but the struggle was worth it," she said. "Now that we have a good contract with SODEXO and the county, we can focus on trying to make our residents feel at home and cared for."
"Our CSEA members are the most important asset we have here at the nursing home," Savage said. "Positive attitudes and a can-do spirit are essential for healing to happen."
— Ove Overmyer