Public rally slated for October 9 at Monroe County Office Building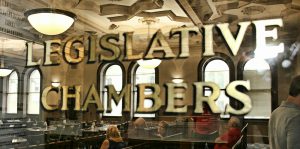 Monroe County — Over time and without advanced notice, previously negotiated health care benefits earned by retirees from Monroe Community College, the retirees from the Sheriff's Office Command and Support Staff (SOAR) and the retirees from CSEA Monroe County Unit 7400 have been significantly altered to the detriment of those who gave a lifetime career to public service. The retirees believe these unilateral changes violate good faith bargaining and do not meet the intended spirit of the insurance language provisions set forth upon when employees retired under their workplace contracts.
For the past eight years, the CSEA Legal Department, the CSEA Health Benefits Department and other CSEA staff associates have been filing legal papers to halt the transgressions initiated by the County Executive's Office and the Department of Human Resources. Presently, CSEA has pending litigation in the NYS Appellate Court concerning these matters and are requesting the NYS judicial branch to hold harmless those retirees affected by the change in benefits.
The facts speak for themselves—for several years, Monroe County administrative officials have demonstrated they do not have the expertise nor ability to properly manage the county budget and subsequently they are breaching contracts to cover their poor decision making. The retirees have become the punching bag for balancing the county budget– thinking the only thing they can control are labor costs. Just recently, NYS Comptroller Thomas DiNapoli listed Monroe County as one of the most fiscally stressed and mismanaged municipalities in New York State—this information should not be new to those residents who call Monroe County home. It has been going on for almost two decades.
Here are some details:
Retirees (and spouses) over age 65 who opted for the Excellus Blue Choice / Blue Point 2 Extended plan at the time of retirement are affected by unilateral changes to health care coverage.
Also affected are those on Disability Retirement who are eligible for Medicare, regardless of age.
Sources have reported that the number of such retirees is approximately 1,800 but this has not been verified by either the County or Excellus.
Retirees (and spouses) under age 65 and those who chose the Excellus Blue Million/ Classic Blue plan (regardless of age) are not affected. Their benefits have remained unchanged from their date of retirement. The number of these unaffected retirees is unknown as is the reason(s) why the Blue Million / Classic Blue group over age 65 have not been affected.
Retirees enrolled in Medicare have continued to pay their own Part B premium ($134/month – $1,608/year) to the Federal government– the same as all other citizens.
The County has steadily downgraded the Medicare Advantage plan it has provided to affected retirees, as a supplement to Medicare, resulting in higher co-pays, deductibles and co-insurance costs for medical services, diagnostic tests, hospital admissions and prescriptions.
The County has now reneged on their promise and terminated these Medicare Advantage plans as of January 1, 2018 and has instead funded a "Health Reimbursement Account" (HRA) for each affected employee (and spouse).
The County has established the amount of this HRA at $50 per month for 2018 but this is subject to change (presumably downward) each year thereafter. This amount is designated to pay for insurance premiums, co-pays, deductibles and any other allowable medical or prescription expense. The amount designated is too insignificant to make a difference in paying bills or managing care—simply put it is an insult to the retirees who dedicated a lifetime to public service to our community.
The County has also retained the law firm of Harris Beach at unknown taxpayer expense to represent its interests in this matter instead of utilizing County Law Department attorneys. Over several years, CSEA estimates Monroe County has hand delivered hundreds of thousands of taxpayer dollars to the law firm—which incidentally is one of the biggest political contributors to the current administration and its elected officials.
With this in mind, the Monroe County Sheriff's Office Association of Retirees (SOAR) will be hosting an informational picket and rally on the steps of the Monroe County Office Building, 39 W. Main Street on Tuesday, October 9, 2018.
Organizers are requesting the media and public to arrive at 4:30 pm, and afterwards attend the full session of the Monroe County Legislature meeting at 6:00 pm. If members of the community would like to speak at the public forum session before the full meeting, please call the Monroe County Legislature at 585-753-1950 to make arrangements.