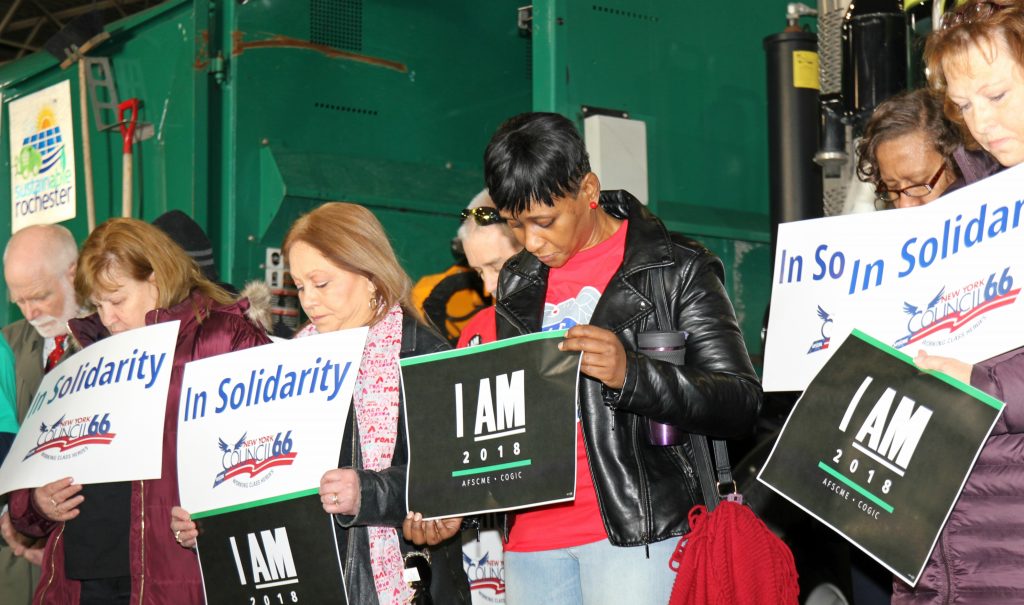 Rochester – The City of Rochester was one of many municipalities that observed a nationwide Moment of Silence on February 1 to honor the tragic and untimely deaths of public employee sanitation workers Echol Cole and Robert Walker. The two City of Memphis, TN employees were crushed to death 50 years ago today by a faulty compactor on their garbage truck.
Their deaths in 1968 sparked the walk-out of 1,300 fellow sanitation workers, all members of the American Federation of State, County and Municipal Employees (AFSCME) Local 1733. This pivotal strike brought Dr. Martin Luther King Jr. to Memphis in April of 1968 to support the sanitation workers' cause.
The Moment of Silence events all across the nation are part of a broader I AM 2018 campaign, jointly sponsored by AFSCME and the Church of God In Christ (COGIC). AFSCME and COGIC launched the I AM 2018 campaign to honor the Memphis sanitation workers and Dr. King in observance of the 50th anniversary of the strike and the assassination of Dr. King on April 4, 1968.
The I AM 2018 campaign is a grassroots voter education and mobilization initiative that will train thousands of activists to create change in their communities and carry on the legacy of Dr. King and also memorialize sanitation workers Cole and Walker.
The Moment of Silence event in Rochester was co-sponsored by AFSCME Local 1635 and the City of Rochester. The observance was held at the Operations Center on Mt. Read Blvd and several local elected officials as well as labor leaders spoke at the service. AFSCME CSEA NY Local 1000 is the largest affiliate of the international union.
"I have always believed that the labor movement and the civil rights movement are two parts of the same struggle," said Bill Slocum, President of AFSCME Local 1635, which represents 1,300 non-uniformed employees at the City of Rochester. He added, "The right to provide for your family free from discrimination on the job is an essential part of what it means to be an American worker."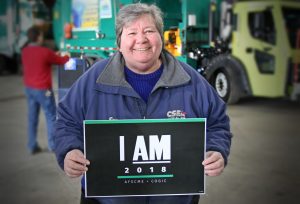 Bess Watts, President of CSEA Monroe County and an AFSCME delegate said, "It's important to remember our history. Let us never forget the sacrifice of those who came before us. As unfortunate as it is that Cole and Walker lost their lives so tragically, they did not die in vain. Today we honor them with the deep commitment and full sense of purpose to keep fighting for dignity and respect in the workplace."
Dan Maloney, President of the Rochester-Genesee Valley Area Labor Federation, AFL-CIO, said, "Labor rights, Civil rights, Women's rights, Human rights– all are part of the same struggle for social and economic justice. That is what the 1968 Memphis strike was all about– dignity, fairness, and creating a better life for workers and their families. The labor movement is and always has been on the right side of this struggle. We will continue the fight for social and economic justice in complete solidarity with all who are ready to build a better future."
The AFSCME I AM 2018 campaign will continue the unfinished work of confronting prejudice, poverty and advancing the freedom for all working people. To view images from the Rochester event, please visit our Western Region Facebook page. For more information about this initiative, you can go here.
-Ove Overmyer