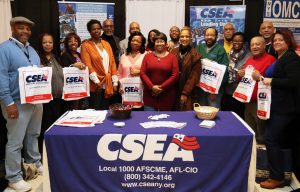 CSEA members recently traveled from across the state to take part in the New York Association of Black and Puerto Rican Legislators' (NYSABPRL) 48th Annual Conference to ensure a CSEA presence during discussions of some major public issues affecting labor and our communities.
Statewide Secretary Denise Berkley and Metropolitan Region President Lester Crockett were among the many CSEA leaders attending.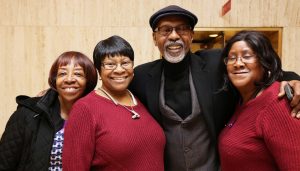 "I really like the Black and Puerto Rican Legislators' Conference because we get the opportunity to speak to and mingle with legislators from throughout the state of New York and to listen to and share information with CSEA members from all around the state," Crockett said. "We can advance conversations and learn more about our brothers and sisters all while being a part of an outstanding event that has been here for 48 years."
Held at the concourse level of the Empire State Plaza, there were information tables and vendors from end to end. Many meeting rooms were occupied with elected leaders, community leaders, advocates, educators, union members (including CSEA) and conference attendees.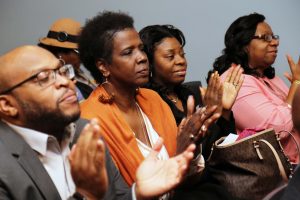 One particular workshop caught the eye of CSEA Capital Region Executive Vice President Rich Bebo as an important conversation to be a part of. The discussion centered on voting rights and the systematic disenfranchisement of minority voters. A presentation on the power of grassroots organizing and individual contributions as a metric of strength was riveting.
"I enjoyed attending the conference," Bebo said. "Utilizing our voice in our communities and getting involved are the best ways to implement change and hold our political leaders accountable."
"It's so important that we are involved politically," Berkley said. "Everything we do, our jobs, our communities, is based in politics."
If you did not get a chance to attend this year, you must consider attending next year, as this conference is a wonderful event.
View more photos and a video showing the vast size of this well-attended conference at facebook.com/csealocal1000 and scroll to February 16, 2019.
— Jill Asencio