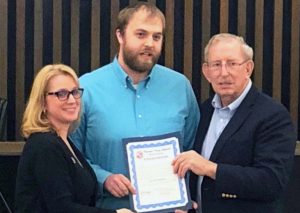 SHERMAN — Sherman Central School District bus driver and CSEA member David Tenpas was recently honored for his heroic efforts in protecting the safety and security of students who were involved in a bus fire.
As noted in the February Work Force, after the school bus that he was driving malfunctioned, Tenpas moved quickly to get about a dozen schoolchildren off the bus before it burst into flames. No one was injured during the Jan. 4 incident.
Tenpas was honored by both the Sherman Central School District Board of Education and the Chautauqua County Legislature. In photo, Tenpas receives a proclamation while being flanked by Chautauqua County Legislators Christine Starks and David Himelien.
— Ove Overmyer