SYRACUSE — "When disasters hit, or when you have an emergency and bad times in your life, you call 911. We're here to assist you in any way we can, for all types of emergencies."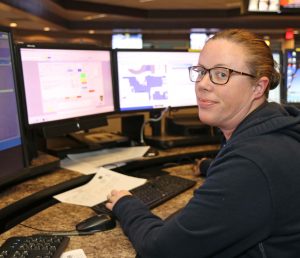 That's how Public Safety Dispatcher Elizabeth Jackson summarizes the work she and her co-workers in the Onondaga County Department of Emergency Communications do every day at the county's 911 center.
It's a vital public service CSEA members don't take lightly, and neither should anyone else. After all, their jobs have real life or death consequences, all the more reason they take extreme pride in their work.
"It's definitely a nice job to work with the public and to help and assist them. It's definitely a proud job to have, working for the county," Jackson said.
"I think it's very rewarding to be in public service," Public Safety Telecommunicator Adrienne Whitehead said. "I feel like it's definitely worth it. It's just a privilege to be able to help and assist people in their time of need."
Ups and downs part of the job
The 911 workers' jobs aren't easy. There are various changing shifts to cover 24-hour operations, a lot of stress and little margin for error. The workers not only answer 911 calls from the public, but initiate contact with emergency responders to summon the appropriate help. Some calls are emergencies, but some aren't.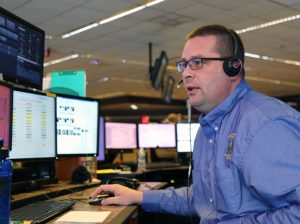 "We take a variety of calls, from house fires, to people looking for legal advice, to domestic violence calls — pretty much anything under the sun that somebody needs help with. A lot of non-emergency calls, as well," said Public Safety Dispatcher and CSEA Shop Steward Kevin Klimek.
Like his co-workers, Klimek is never sure what to expect with each call.
"The ups and downs can be challenging," he said. "You may have a call that's very low-key, maybe somebody looking for a vehicle that's been towed. Then, the very next call could be a mother, frantic, reporting that her child isn't breathing. You just never know."
"The adrenaline and the stress levels go up and down per call. For dispatchers, it's the same thing," he said.
"At any point in time, you could have a serious call land on your screen that you have to dispatch within a timely manner and you have to work with the officers to mitigate the situation. The officers are out on the road and their safety is paramount for us. We take [our responders']safety extremely seriously, so that also adds to the stress of the job."
Add on that the people on the other end of the phone are hardly calm, cool or collected.
"You have callers who are [facing the]worst day of their life; they don't even realize how they act a lot of times," Jackson said. "You just have to understand that people contact you on the worst day of their lives, so you just have to let it go and move onto the next one."
But calming callers down enough to deliver needed help can itself prove rewarding.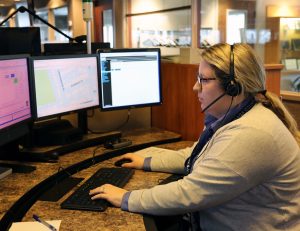 "The most rewarding part of my job is when somebody calls you and they're on the complete threshold of hysteria and you're able to calm them down enough in order to assist them in something life or death that they're dealing with," said Whitehead.
Rewarding work
For other dispatchers, the strongest incentive comes from following up on successful outcomes of calls they handle.
"The most rewarding part of the job is finding out the positive outcomes for the people that you've actually helped," said Public Safety Dispatcher Michael Phelan. "For example, if you take a cardiac arrest [call]and you find out that the patient's doing well; if you're helping a female throughout her pregnancy and find out that the baby was delivered successfully; you're coaching somebody to do CPR and it's working very well or if someone is trapped in a house fire and you successfully get them out of the residence, those are truly the most rewarding aspects of the job."
But dealing with emergencies can take its toll on even the most experienced call-takers.
"The most difficult part is when you get calls that hit close to home," Whitehead said. "I have a young child at home, so medical calls dealing with young children can take a bit out of you, especially if they don't have the best outcome, but being able to pick yourself back up and get back in the game and help more people makes it all worth it."
Klimek said that the work he and his co-workers do can often get misunderstood.
"I think there's a lot that the public doesn't necessarily understand because of the complexity of what we do," he said. "I think a lot of people forget that we're human as well and we have emotions. There can be those calls that really trigger us to have a hard time. A lot of times, they don't think we understand their crisis because we're usually calm and cool about their situation, when in reality we do care and we have to remain that way to make sure that they get the best response from the agencies."
That's where training and professionalism really pay off.
"We go through very extensive training. We do a few months in a classroom setting and then we do three rounds with somebody on the floor," Whitehead said. "Getting all of the different perspectives through all the different types of calls you take gives you all the tools you need in order to handle the life or death situations that are extraordinarily stressful and to be able to continue on after those calls and help people to the best of your ability."
And that's what they do so well, day after day, no matter the time.
"We're here around the clock to protect and serve our community," Public Safety Telecommunicator Isaac Cruz said.
Count us all grateful for their service.
— Mark M. Kotzin