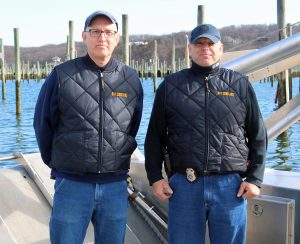 PORT JEFFERSON STATION — The Town of Brookhaven's bay constables play a crucial part in the town's public safety.
That fact was made apparent when two constables saved the life of a man who became stranded on a sand bar.
"The individual decided to go fishing and walked out to the sand bar, not realizing that the tide was coming in," said Senior Bay Constable and CSEA member Karl Guyer.
Bay Constable and CSEA member William "Billy" Demorest said the man had been fishing for a few hours when he realized that he needed assistance to get back to shore. The man called Brookhaven Town Headquarters, and the constables were alerted.
"[Guyer and I] were both on our way to work when we got the call," said Demorest. "Within a half an hour, we arrived at work, got our boat and went out and got him."
Although the stranded man gave a description of his location, it was the bay constables' knowledge of the area that helped them figure out where the man was located.
"Billy was in constant contact with the man by phone, so we knew he wasn't in any imminent danger," said Guyer.
If the bay constables had not gone to rescue the man, he would have had to wait six hours for the tide to go back down.
Guyer noted that bay constables performed between seven and nine rescues in 2017.
"We work along with the Suffolk County Police Department," said Guyer. "They receive the predominant amount of phone calls because 911 goes through them."
A crucial public service
Despite the the bay constables' exemplary job performance, town officials are considering cutting back on bay constable positions.
"There has been discussion about whether full-time bay constables are needed during the winter months," said Town of Brookhaven Blue Collar Unit President Mike Morris. "My answer to that would be that if there hadn't been someone working during the winter, the day the man was stranded on the sand bar could have ended very differently."
The constables have four full-time employees, including Demorest and Guyer, as well as part-time workers.
Demorest and Guyer said they get along well with the part-time workers and appreciate their efforts. The problems come into play when considering the skillset that they bring to the position.
"It breaks up the continuity of the position when you have people coming in who don't have boating experience, although some of them do," said Guyer. "We have to give on the job training to those who don't have experience."
Despite any issues that may occur, our members have made it clear they are proud of their work. The constables' duties include maintaining navigational aids, enforcing federal, state and local laws in town and village waters and investigating reports of waterway activities such as boating accidents and drownings.
"We take a lot of pride in the services that we provide," said Demorest. "With the assistance of the Town of Brookhaven board and the commissioner, we'll continue to provide great services to the public year-round."
— Wendi Bowie