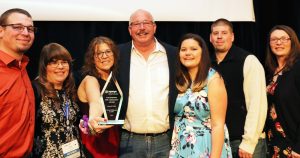 VERONA — CSEA/VOICE Local 100A President Pam Wells received a high honor from the New York Association for the Education of Young Children (NYAEYC).
Wells recently accepted the 2019 Champion for Children Early Childhood Leader award with warmth and grace in front of hundreds of other early childhood educators from around the state, including CSEA members, staff and her entire family.
She was honored for making a difference through her family child care program and her steadfast leadership for the family child care profession through her union. Presenters highlighted her many successes affecting positive change, including her tireless, effective advocacy for providers, children and families from the State Capitol in Albany to the halls of Congress in Washington D.C.
She was presented with the award at the recent 2019 NYAEYC Conference at the Turning Stone Conference Center in Verona.
"Pam is an inspiration to us all. We are so proud of her," said CSEA/VOICE member Darcel Leone."This award meant so much to us all. Not only was she getting the acknowledgement she deserves for her leadership, but we are finally recognized by our peers for what we do and are regarded on equal footing with other early educators whether they be center or school-based early education professionals in our field. It feels so good."
During the conference, CSEA/VOICE also had a hand in providing two valuable trainings specifically for home-based family child care programs.
CSEA/VOICE Local 100A sponsored a training given by national family child care expert Sharon Woodward, a best-selling author and a lawyer who works legally representing unionized child care providers at SEIU (Service Employees International Union). The training, called "Professionalize and Protect" offered strategies to success in family child care underscoring the understanding that through our union we can achieve and gain the tremendous union advantage of knowledge, power and protection.
"The idea that we have power in child care is important to me," said Woodward. "Unless you have strategies to empower and protect yourself and the union is included in your empowerment, then you will not be protected. I am going to give you those strategies today."

Our CSEA/VOICE local also ran an intensive tax preparation course designed specifically for CSEA family child care providers developed by Industry Icon, published author and training guru Tom Copeland and CSEA to help them understand what their tax preparer, whether it be them or a tax professional, should know to ensure accuracy and the best return for these complicated small businesses.
The conference inspired both veteran and new members. Several providers also became members at the conference after seeing all our union has to offer and all providers have been able to do for the profession.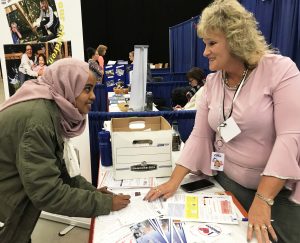 "There's just so much!" said Fatuma Mohamud, right after she signed her membership card.
"Receiving this award was such an honor," Wells said. "It demonstrates that it doesn't matter where we stand under the umbrella of the Early Childhood Profession. Our mission is the same; to come together and work toward the common goals of better funding, resources, and access to high quality care and education for all children and families. This is what matters most."
— Jill Asencio