VALHALLA — Lina Montes is headed to Yale University this fall, and her mother's union membership is one reason why.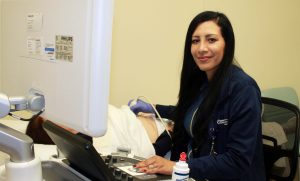 Montes, daughter of CSEA Westchester Medical Center Unit member Diana Sarria, was one of 10 students from across the country awarded the 2018 AFSCME Family Scholarship, a prestigious honor open to prospective college students with a parent or guardian belonging to AFSCME, our international union.
The scholarship will provide Montes $2,000 per year for up to four years. She plans to study computer science and engineering while at Yale and hopes to use those skills to further her passion for social justice.
During her time at Yonkers Middle High School, she has emerged as an activist, spearheading a voter registration drive and helping organize a student forum following the tragic school shootings in Parkland, Fla.
"I'm very proud of her," said Sarria, a senior ultrasound technologist at Westchester Medical Center's outpatient imaging center. "She is a very well-rounded kid and a real leader."
In her scholarship essay, Montes wrote about her mother's years of hard work after immigrating from Colombia, working several years in a factory when she came to the United States, teaching herself English and eventually earning an associate's degree.
While Sarria received an education in Colombia, she found that she had to start from scratch once she decided to pursue a more secure future for her family in the United States.
That hard work, culminating in Sarria's career at Westchester Medical Center, built a strong foundation that allowed Montes to soar.
"Her decision to pursue a United States education despite the plethora of obstacles present has changed the destiny of our lineage for generations to come," Montes wrote.
While it is Montes's sheer determination that resulted in an Ivy League college acceptance, she said it's our union that has helped her family build a comfortable life in the United States, from quality health insurance that minimized out-of-pocket costs when family members faced serious illness to the stable income that allowed Sarria to move her family from a cramped two-bedroom apartment rental in a rough Yonkers neighborhood to a home she purchased in a quieter area of the city.
"Having our union has helped give me peace of mind," said Sarria. "On top of our contract, there are a lot of perks you can take advantage of, including these scholarships. It feels good knowing we have our union there for us."
Seeing Montes and her other children's success has made her many sacrifices worthwhile.
"My kids grew up seeing me always trying to do more," Sarria said. "It was rough, but I always told them we can do it, and they have. Now they're at the top of the class."
For more information about available scholarships through CSEA and AFSCME, visit cseany.org/education.
— Jessica Ladlee