'It's something I've always wanted to do"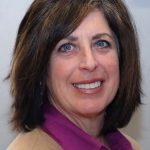 MATTITUCK — Being a wife, a mother and a full-time worker leaves very little time for satisfying individual wants and needs.
When Lisa Bieber, an office assistant to the principal at Mattituck-Cutchogue Jr-Sr High School, received a brochure in the mail with an ad for the AFSCME Free College Tuition Program, she knew she had to take advantage.
"I had taken college courses, in another life, before children," said Bieber. "My kids were getting close to finishing college and I thought it was finally time to do something for myself."
All of the credits that Bieber acquired from her former collegiate stint were transferred to Eastern Gateway Community College, the school that AFSCME has partnered with for the free college tuition program.
Currently in her last semester for Business Management, Bieber plans on using her degree to enhance her current position.
"I learned a lot of skills that I can apply to my work for the principal and the Board of Education," said Bieber. "I look forward to being put in more leadership roles."
Admitting that she has more years behind her than in front in the workforce, Bieber said obtaining the degree is as much about personal satisfaction as it is about professional goals.
"Even if I don't end up using my degree professionally, at least I completed an item on my bucket list," said Bieber. "It's something that I always wanted to do. With getting this degree through our union, financially, there's really no reason not to do it."
As for the convenience of the classes, the fact that the courses are online has been very helpful.
"I would not have been able to go back to school if I had to travel to a physical location," said Bieber. "Being a full-time worker and living in a remote area, I don't have that commuting time so, I can do my work wherever I am and that has worked for me."
Bieber's academic success in the program is obvious; she has been named to the school's president's list every semester.
Always one to challenge herself, Bieber takes over 16 credits per semester.
"It's a lot for someone who works full time, but if you schedule your time right, you can meet your deadlines," said Bieber.
"The thing that I like about taking courses at Eastern Gateway Community College is that the courses are at an accelerated rate," said Bieber. "Regular college classes last 16 weeks; the classes that I take are eight weeks."
Bieber said that she has recommended the AFSCME Free College Tuition Program to her CSEA co-workers and one has enrolled.
"Our programs don't match, but it's nice to have someone in the building who I can commiserate with about professors and notes and can offer each other support," said Bieber.
Having had such success with her current curriculum, Bieber is hoping that the AFSCME Free College Tuition Program offers additional degrees. Fortunately, the program recently expanded its offerings.
"This program is great for adult education and for younger members in your family, as well," said Bieber.
— Wendi Bowie