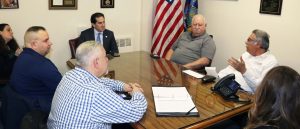 CSEA members are fighting proposed cuts in Gov. Andrew Cuomo's $175.2 billion 2019-20 New York State Budget proposal, particularly after the governor released amendments to the proposal to offset a $2.3 billion revenue shortfall for the upcoming fiscal year.
"The budget amendments include proposals that could jeopardize many of the services that New Yorkers rely upon every day and that our members provide," CSEA President Danny Donohue said.
Health care cuts
The amended budget proposes more than $190 million in state Medicaid cuts for each of the next two fiscal years. These cuts could be devastating to CSEA-represented hospitals and nursing homes.
These changes are in addition to an original budget proposal to eliminate the state operating subsidy for the three State University of New York (SUNY) hospitals: Stony Brook, Downstate and Upstate. This elimination will sharply reduce the hospitals' resources, which is particularly concerning because the SUNY hospitals are "safety net" facilities that are key to caring for New Yorkers who are poor, indigent and uninsured.
Prison closures
The amended budget proposes to close up to three prisons with only 60 days' notice, leaving the state Department of Corrections and Community Services to decide which prisons close. As this edition went to press, the facilities were not announced.
Potential mid-year cuts
The amended budget would expand proposals to give the Division of Budget broad authority to make mid-year cuts to budget appropriations. This is in addition to already proposed language that would allow the division to make cuts to state operations and aid to localities if they project revenue will be $500 million lower. CSEA is strongly opposed to these proposals.
We will be working with our state legislators to pass a budget that is fair to all New Yorkers. Visit cseany.org for updates.