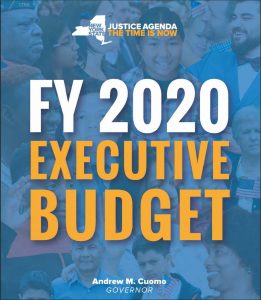 The enacted $175 billion 2019-20 New York State Budget includes some positive steps for working people, but our union will continue to fight for the services that New Yorkers rely on every day.
CSEA members from across the state lobbied their state legislators to pass a budget that works for all New Yorkers.
The final budget extends to local government and school district employees protections for public sector employees that expands on a June 2018 executive order that prevents state employees' personal information from being supplied to unauthorized persons or organizations. These protections:
Make it an improper practice for a public employer to disclose the home address, personal telephone numbers, cell phone numbers, and email addresses of employees.
Require a public employer to release to the union, upon the request of the union and not more than quarterly, the name, address, job title, employing agency or department and work location of employees in a bargaining unit.
Remove any liability from employers or unions who complied with state law regarding agency shop fee deductions prior to June 27, 2018.
The final budget rejected a proposal that would have required the disclosure of the terms of a tentative collective bargaining agreement before either employees or employer has voted on the contract.
"We are pleased that this budget has extended protections on personal information to local government and school district employees," said CSEA President Danny Donohue. "As we have seen since the Janus decision, our opponents won't stop trying to contact public employees, often against their will. We are staying strong as a union, but this is an important measure by the governor and state legislators in ensuring workers' personal information is protected. These protections also show our elected leaders' support for labor at a time when CEOs and billionaires are fighting to destroy unions."
Other budget agreements
While the enacted budget cuts AIM funding for towns and villages where AIM makes up less than 2 percent of their budget, the budget makes these municipalities whole by dedicating revenue from the newly enacted internet sales tax to fill this gap.
The enacted budget also makes the property tax cap permanent with no changes.
The final budget gives the state the authority to close up to three correctional facilities with only 90-days' notice instead of legally required one-year notice. The Governor originally proposed to close three facilities with only 60-days' notice. The facilities that will be closed have not yet been named.
The budget establishes a commission to establish a system of taxpayer-financed political campaigns for legislative and statewide offices.
The commission can establish a system that will use up to $100 million annually in public money to match private campaign contributions. The commission's report is due by Dec. 1, 2019, and its recommendations will be binding unless it is modified by the legislation before December 22. CSEA strongly opposes this proposal and will continue to advocate against this proposal because there are more important needs for our state.
Polls will now be open statewide from 6 a.m. to 9 p.m. for primary elections. Primary Day in New York State will now be held on the fourth Tuesday in June.
The final budget rejects all of the proposals that would have resulted in increased health care costs for state and local government retirees.
The final budget increased K-12 school aid by about $1 billion and restored a $5 million cut to library aid to keep funding at the same level as last year.
Included in the enacted spending plan are several revenue items, including extending the current Millionaire's Tax for five years.
Beginning in March 2020, single-use plastic bags that are provided to customers in places where sales tax is imposed, such as grocery stores, will be banned. Items such as garbage bags, deli bags, bags for food from takeout restaurants, prescription drug bags and CSEA bags will still be allowed.
The new law allows cities and counties to pass a local resolution to allow stores to charge a 5-cent fee for paper bags. Two cents of this fee will be given to counties to provide re-usable bags to low-income individuals and three cents will be deposited in the state's Environmental Protection Fund.
For more about the state budget, visit cseany.org.