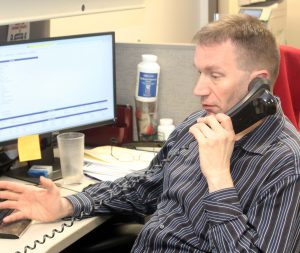 ALBANY — Going to our union for help is as simple as one phone call.
CSEA recently created the Member Solutions Center in our union's headquarters to help better serve our members in yet another initiative to keep our union strong and growing.
In addition to our ongoing efforts to engage members at their homes and worksites, we recognized the need to better serve members who call our union.
"We take threats to our union very seriously," CSEA President Danny Donohue said. "Our Member Solutions Center is another great way for us to meet the challenges we face by helping us be more responsive to our members."
The Member Solutions Center features a call center designed to handle any possible union question by providing answers or directing members to the right place for information.
The Member Solutions Center also includes the Membership and Insurance Departments.
"These departments have a high volume of member (phone) contact, so we merged them into our call center so that our members have an easier time getting the information they need," Member Solutions Center Director Thomas Gouveia said.
The biggest benefit of the Member Solutions Center is having several employees dedicated to answering the phones, with the training and knowledge to solve problems and have conversations about many CSEA topics.
"We have always been focused on our members' needs, but through the Member Solutions Center, we are listening actively to what our members want to tell us," Gouveia said. "We work through it and try to find solutions that really help."
Need for a call center
As the Janus decision loomed last spring, CSEA anticipated an increased number of member calls. To address this, we developed an in-house call center, initially called the Member Response Group.
"We needed a forum to handle what we anticipated would be a high volume of phone calls after the Janus decision was announced," Gouveia said. "We had to be ready to go immediately after [Janus]."
In spring 2018, CSEA created the call center, including securing equipment and training staff to answer calls. Training included input and information from every CSEA department, including region leadership and staff, to ensure call center employees had the best solutions to as many questions as possible.
Staff were also trained in the proper places to contact for calls on issues that may come to CSEA but are handled by our partners, including Pearl Insurance, the Employee Benefit Fund or the New York State/CSEA Partnership for Education and Training.
"We were ready to go on June 1," Gouveia said. "The Supreme Court announced Janus on June 27 at 10:25 a.m. We took our first call within the hour."
Effecting change
Our union also developed mechanisms for capturing call data, including topics, worksites and regions.
Gouveia said that in addition to the capture data, he and other staff listen for potential topic trends. Every evening, the center sends a report of calls (by region) to each region office to get concerns addressed.
"We act as a trip wire in many ways because we analyze trends," Gouveia said. "If we see a trend, we will notify the right people in the [affected]region."
In one example, soon after the Janus decision, the center received numerous calls from members noting that they wished to quit our union. They were employed in similar titles at the same worksite.
"Because of our trending analysis, we were able to inform staff in that region very quickly," Gouveia said. "The local president was able to get to the worksite promptly and address the concerns of our members directly."
CSEA Director of Political Operations Bryan Miller, one of the first call center volunteers when the center was established last year, took a call from a member who wanted to leave our union.
"The call started with the member very brazenly saying not only did he want to quit our union, but he knew a number of other members in his workplace that wanted to quit as well," Miller said. "I think he expected me to be combative, but as we were trained to be, I was polite and courteous. I explained to him the process to leave and then addressed all of his concerns with being a union member."
Miller said the member thanked him and the call ended with the impression the member would be leaving.
An hour later, the member called back and asked for Miller by name. "He thanked me, and told me that after thinking about it, he thought it would be better if he stayed, and thanked me for explaining why our union is good for our members," Miller said.
A member-centric experience
Union leaders quickly recognized the value of the Member Response Group and decided to make the center permanent in the form of the Member Solutions Center.
Gouveia said that three permanent call center staff, along with two backups, are available to answer calls.
If you have a question, need help, or want discuss our union with a specialist, call us at (800) 342-4146. We are here to help.
— Janice Gavin and Mathew L. Cantore