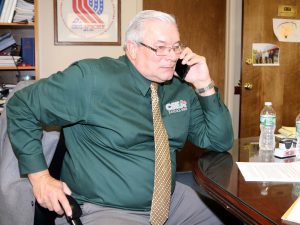 MINEOLA — Nassau County Local President Jerry Laricchiuta has never been one to back down from a challenge.
For his unwavering efforts, he was recently honored with CSEA's Mission Achievement Local Government Award.
Laricchiuta has been working on behalf of CSEA members since he became a shop steward in 1995.He decided to become an activist in our union after seeing an incredible amount of unfairness at his worksite.
"I worked as a cook in a correctional facility," said Laricchiuta. "At the time, it was a really hostile work environment for union employees. I kept approaching the unit president and pointing out unfairness in overtime distribution and seniority."
When the unit president [a corrections officer]saw how outspoken Laricchiuta was, he decided to make him a shop steward. It was the first time in the unit's history that a civilian was appointed to the position.
Within a year of Laricchiuta's appointment, with the help of the Nassau County Local, the unit took control of the overtime book from the corrections officers.
Larrichiuta also was the driving force in the cooks forming their own unit within the Nassau County Local. That unit, known as the Sheriff's Support Unit, still stands today. Laricchiuta was the first president of the unit.
Laricchiuta dedicates his entire day to working on behalf of the members that he represents.
"I don't punch a clock," said Laricchiuta. "I could get called at 5:30 in the morning or 2 a.m. It's part of the job and I love the job."
In 2005, Laricchiuta became the Nassau County Local president. When he took office, Laricchiuta quickly realized that the local needed greater visibility.
"When I took over, we were like this big, toothless giant," said Laricchiuta. "No one cared who we were or what we did."
For this reason, the local began running commercials featuring Nassau County Local members. It was Laricchiuta's way of branding CSEA in the community.
Local officers also began inviting newspaper and TV reporters to follow them as they introduced legislators to CSEA members and explained the types of jobs that our members occupy in the county, which helped the local familiarize themselves to community members.
They also made a point of making sure the general public knew about the problems that were going on in the county, by working with the local press to raise awareness.
Of course, reaching out to the members of Nassau Local 830 is extremely important to Laricchiuta, who meets with unit presidents every month.
He also attends around 72 hour-long member meetings per year, at which he explains the latest in union activities on a local, statewide and federal level.
For members who can't attend meetings, the local distributes a newsletter, sends out email blasts and regularly updates it's Facebook and webpages.
With all of his accomplishments, Laricchiuta was still taken aback when he was informed that he would be receiving the Mission Achievement Award.
"I don't think that I'm any better than any other local officer," said Laricchiuta. "It doesn't matter if you have 400 members or 8,000 members, the stress level of what we do is still the same."
Laricchiuta also acknowledges that he couldn't have earned the honor alone. He appreciates the contributions of both local activists and staff.
As a matter of fact, Laricchiuta considers CSEA staff to be a huge asset to the membership.
"A lot of unions don't have the amount of staff that we do," said Laricchiuta. "It's a huge benefit to have people working with you to keep the momentum of CSEA's initiatives going. I want to thank the CSEA staff for nominating me for this award. It's nice to be recognized by people who are also fighting the fight, every day."
— Wendi Bowie